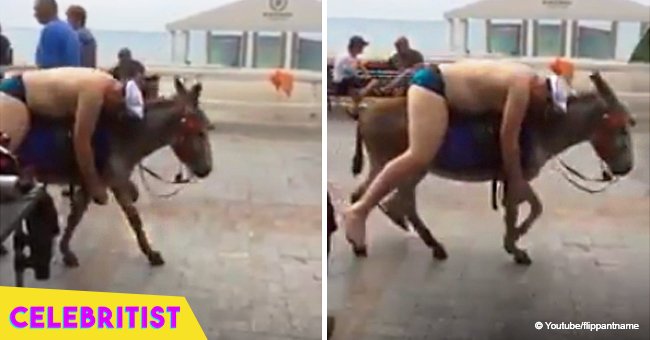 Hilarious moment police chase drunk man who fell asleep on a moving donkey
A half-naked man fell asleep on a donkey that started to wander around the city, police, both shocked and amused, began to follow the animal around while trying to wake up the man. He had a great night the day before.
The hilarious video of a man wearing only swimming trunks and a sailor hat while slumped face down on a moving donkey has earned more than 1 million views on Facebook, and people find the entire situation amusing.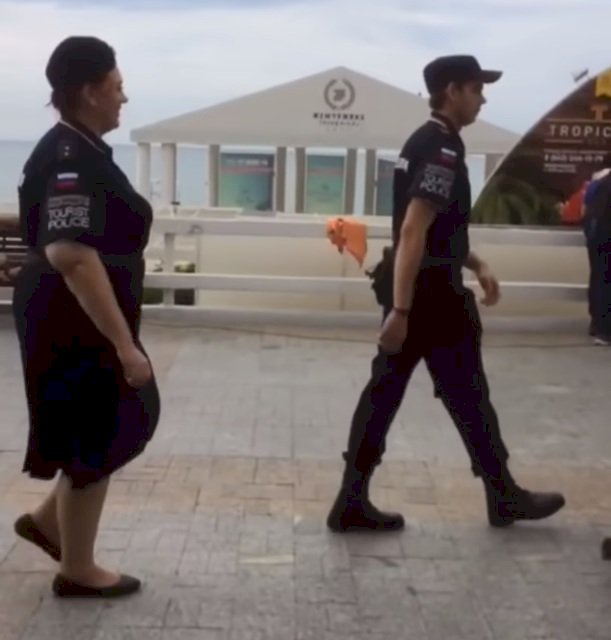 Source: YouTube/Joe Classic
The drunken traveler was passed out on top of the unbothered animal, which started to walk around a busy seafront boulevard in Sochi, Russia, unaware of the hilarious view it was providing for thousands of tourists and locals.
Two police officers caught sight of the man and started to chase the donkey around to avoid the man to fall face down on the floor and try to wake him up. But even the law enforcement couldn't contain their laughs at the weird sight.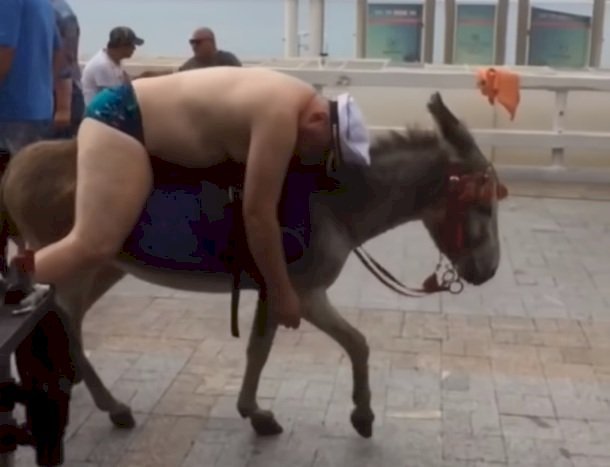 Source: YouTube/Joe Classic
In the video, one officer can be seen running behind the donkey, as his partner stays behind and turns around to burst into a fit of laughter. Bemused passersby were curious by sight, not knowing where the man was going or how did he get on the donkey in the first place.
The story of this burly man reminds of a new approved unusual law in the island of Santorini in Greece that prohibits overweight people to ride on local donkeys.
NEW LAW BANS OVERWEIGHT PEOPLE IN SANTORINI
According to News AU, the law explicitly states that people who weight over 100kg are banned from riding the donkeys, which is a traditional and highly popular activity for tourist in the picturesque island.
The decision was made by Greece's Ministry of Rural Development and Food and aims to protect Santorini's donkeys. The call was made after several animal rights groups came forward to reveal that the animals were suffering from spinal injuries, open sores and stress as a result of carrying tourists around all day, which became worse when they had overweight.
A change.org petition, called "Stop Animal Abuse of Donkeys and Horses in Santorini," has gathered thousands of signs, and it reads:
"Despite the fact that it's only a 30-minute walk … or two minutes by cable car, these donkeys are used as cruel transportation for people who want the 'real Greek' experience. These donkeys are forced to stand around in the sun in their own feces at the side of the path, and all they do is go up and down, up and down carrying people who are too lazy just to walk or take a cable car."
While many activists are hoping the activity to cease, some farmers and donkey owners make a living off the business.
Please fill in your e-mail so we can share with you our top stories!