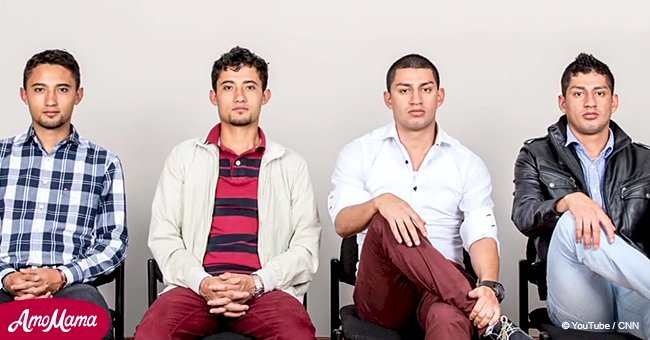 2 pairs of identical twins separated at birth find each other only after 20 years
A mix up at birth and peculiar coincidences lead to an extraordinary reunion 20 years later.
Twins William Canas Velasco and Wilber were born in December 1998 and grew up with a close bond. As an adult, William was working in a butcher's shop in Bogata, Columbia. One day his cousin's girlfriend, Janeth Paez walked into the store with her friend Laura. When Laura saw William she mistook him for her coworker, Jorge Enrique Bernal Castro.
Source: YouTube/CNN
Laura was confused and told Janeth that he is not a butcher but a highly skilled engineer, however, Laura disagreed mentioning that she had known William for a long time and that he was a dedicated man practically married to his job at the meat counter.
Read more on our Twitter account @amomama_usa.
Source: YouTube/CNN
Laura confronted Jorge at work the next day and he told her he has a fraternal twin named Carlos, but they looked nothing alike and could not have been his 'real' twin that Laura had met the previous day and that it had just been a coincidence.
After Laura showed Jorge a picture of William the butcher, Jorge could not believe what he was seeing so he dug deeper and found a photo on Facebook of William and Wilber posing next to each other.
Source: YouTube/CNN
Jorge was stunned, it looked like a picture of himself and his own fraternal brother Carlos. William and Jorge were an exact match while Carlos and Wilber, in turn, looked identical.
Carlos was furious and wanted to know who these imposters were. It was not long before they realized that the two sets of identical twin brothers got switched after birth in the hospital.
Source: YouTube/CNN
All four boys were born prematurely at the same hospital and soon after the discovery, the four brothers met in person. Since meeting for the first time they have grown close and are even planning on buying a house and traveling together.
The most widely reported case of children switched at birth in America was when Callie Johnson and another girl got switched shortly after birth at a UVA hospital in 1995. Single mother Paula Johnson discovered Callie was not biologically hers when she was three years old.
Callie's biological parents, Kevin Chittum and Whitney Rogers along with four other relatives tragically died in a car crash the same day the University of Virginia Medical Center in Charlottesville discovered they were switched shortly after birth. Callie would never her biological parents.
Today Callie, 18, lives on her own in Richmond, Virginia and plans on going to culinary school with her 'adoptive' mom Paula who raised her remains the most important person in her life.
Source: Dailymail.co.uk
A case of mistaken identity can come out in twisted ways, as with Juan Ramon Alfonso Penayo who got presumed dead after police discovered a badly charred body in their village of Santa Teresa in the eastern Paraguayan department of Amambay, and not being able to get hold of their son they even identified the burned remains and buried him, believing he got killed in a gang shooting.
Around a week later Juan arrived home, walking into his own wake. The 20-year-old Juan and his family were astounded and relieved at the shocking turn of events.
Please fill in your e-mail so we can share with you our top stories!