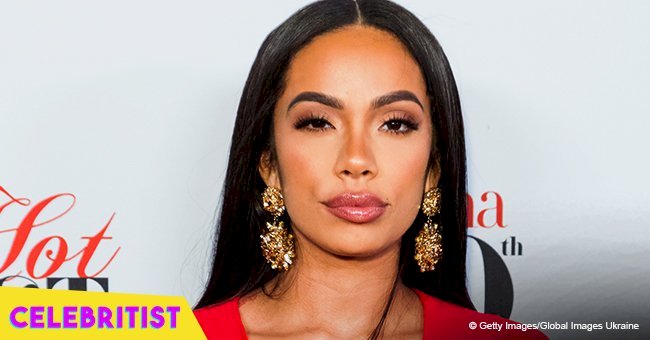 'L&HH' star Erica Mena allegedly arrested for drug possession

Notorious reality star Erica Mena is in trouble. She faces charges of marijuana possession after being arrested this weekend.
Feisty firecracker Erica Mena, formerly of "Love and Hip Hop" was busted over the weekend for possession of drugs.
The reality star was reportedly detained in Atlanta on Friday after it was discovered she was carrying less than 1 oz of marijuana. She was later released after posting bail and is due in court in a few weeks.
Reports reveal her boyfriend also got into trouble. However, there were no details provided regarding what happened to him.
Mena has had her fair share of trouble in the past, though most involved altercations due to her volatile nature. In 2011, the Latina beauty fought with her "L&HH" co-star Kimbella. There was hair pulling, kicking and punching to the delight of catfight-hungry television viewers.
She also became physically aggressive with Nya Lee and Chrissy Monroe, apart from getting in Kourtney Kardashian's bad side. Mena was once hired by Kardashian as a sales associate in her Dash Miami store. Things turned sour when she began showing up late for work and at one point argued with her boss, cursing in front of customers. This prompted Kardashian to fire her.
But while she would often be placed in a bad light in most of her feuds, Mena knows when to clear the air when needed. Last July, people pitted her against former "Basketball Wives" star Draya Michele due to a tweet she posted.
In her tweet, she reached out to BET for a possible acting role claiming the network is in need of a "good actress" for their movies. Many thought she was throwing shade at Michele who was then starring in the upcoming film "We Belong Together.
However, Mena clarified the issue by insisting her tweet was in no way referring to Michele who she claimed she hardly knows. In her words, she said,
"I know of her. I don't know her. So I wouldn't know what she's doing. I wouldn't care. I wouldn't even have any ammunition to talk about something I just don't care about."
Mena is due in court in a few weeks to face charges in relation to her recent arrest. It's possible she'll be arguing her way through this one too.
Please fill in your e-mail so we can share with you our top stories!