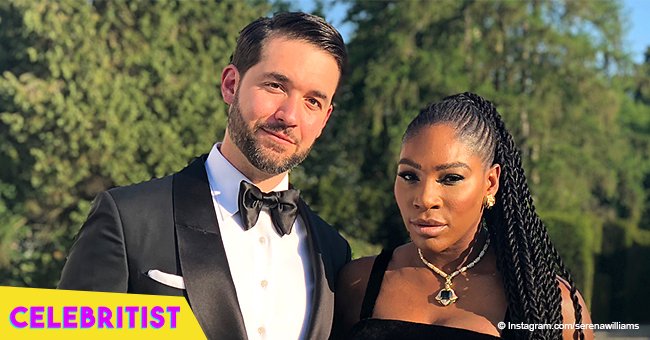 Serena Williams melts hearts with photo of curly-haired daughter in luxurious car

Olympia, the one-year-old daughter of Serena Williams and Alexis Ohanian, appeared in the driver seat of the luxurious car in a recent Instagram post in her page.
In the image, the toddler appeared standing up in the white car wearing a white shirt and her beautiful curly hair while looking back as if she was afraid that someone could see her in the vehicle.
For the caption, one of her parents, probably Alexis, wrote: "Papa, you sure mama won't find out?" As soon as that image hit the internet, the toddler's followers went to the comment section to share their thoughts.
REACTING TO IT
Some of them keep up the joke by admitting to being surprised by the fact that Olympia could drive already, adding that children grow up too fast. Others said that the toddler looked just as if she was heading to the mall to do some shopping without her mother.
CONSOLING HER MOTHER
In the "No Filter" podcast that Serena participated, she revealed that Olympia consoled her after the humiliating loss at the U.S. Open a couple of weeks ago, when she had a rant that ended up being a viral incident.
The tennis player admitted that, once she got in the car, Olympia started giving her kisses, something that she doesn't regularly do as she "doesn't even know to give kisses."
BEING PART OF A BREAST CANCER CAMPAIGN
Soon after that incident, Serena joined the Breast Cancer Network Australia to be part of a campaign that seeks to encourage people to touch themselves and prevent or identify breast cancer on time.
For the campaign, the tennis player went topless to perform a cover of Divinyls global hit "I Touch Myself."
She revealed that even though she was out of her comfort zone by doing so, she hoped that it could help people to touch themselves.
DIGGING INTO BREAST CANCER
According to the National Breast Cancer Foundation, breast cancer is the most common form of cancer among women and the second leading cause of cancer deaths among the group.
CELEBRATING A MILESTONE
Recently, Serena took to Instagram to share a photo of herself next to her daughter as a way to celebrate that she reached 10 million followers on the social media previously mentioned.
In the post, the tennis player appeared wearing a black ensemble while playing with Olympia in a sandbox. The toddler put on a black onesie that read: "More issues than Vogue."
That image and the previous ones that Serena has uploaded proved how good a relationship she and her daughter have.
Please fill in your e-mail so we can share with you our top stories!