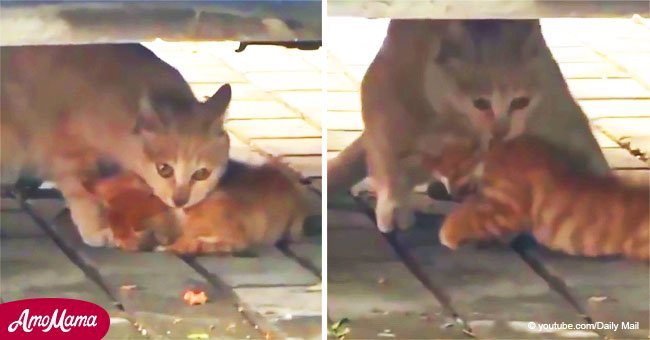 Mother kitten who simply refuses to leave her baby behind is captured in heartbreaking video

A bystander witnessed a very emotional scene involving a female cat and her deceased kitten in a street in central China, and she shared a video of it to show us all the complex feelings animals feel very much like humans.
According to Daily Mail, the video was captured in Luoyang city, located in the Henan province of the Asian country. The way the mother cares for the lifeless body of her baby has touched many hearts.
The footage, shared by the news outlet's YouTube channel on October 9, begins with the image of the immobile kitten lying underneath a car. The body shows no signs of harm, and it is unknown how did the animal die.
After a cut, we can see an adult female cat with the same white-and-yellow pattern than the kitten having a hard time accepting that it won't wake up however hard she tries, and the mother seems to need a moment to cope with her feelings.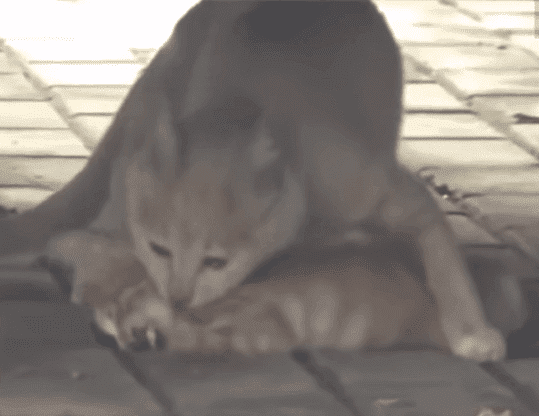 Source: Youtube/Daily Mail
Even when the adult feline understood that her baby was gone, she refused to leave it behind, and the last we see of them is the mother taking the baby by the scruff and carrying to safety. Read more on our Twitter account @amomama_usa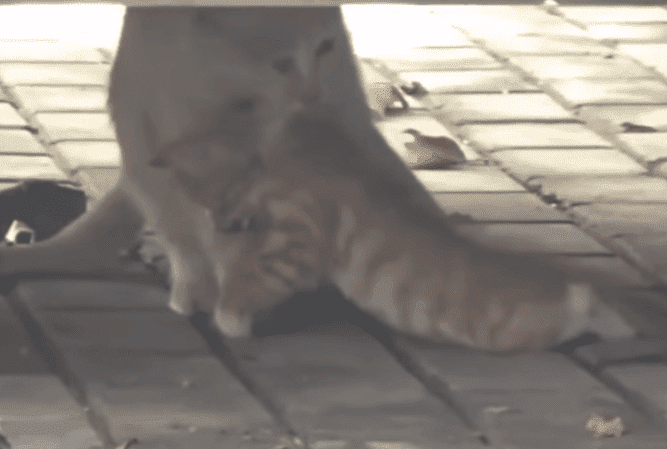 Source: Youtube/Daily Mail
"When I first saw the kitten, I thought it was sleeping. Animals share the same emotions as humans. I think the mother is refusing to accept the fact that its baby has died."
-Witness, Pear Video, October 8, 2018.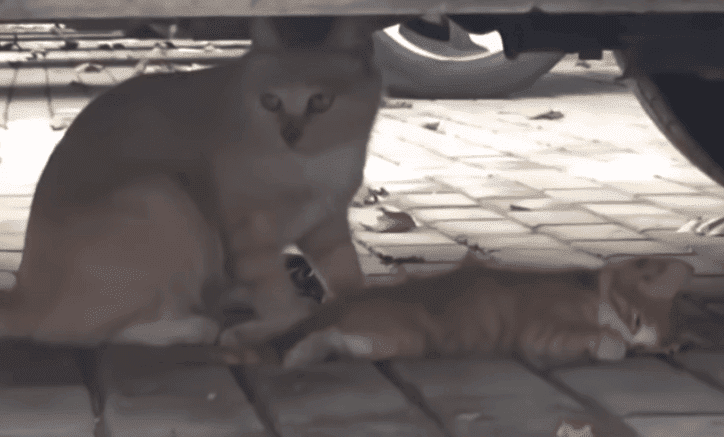 Source: Youtube/Daily Mail
Anybody who has been close to animals knows how intensely they can feel affection and experience loss. They develop strong bonds with others and have to overcome grief when they lose a dear one.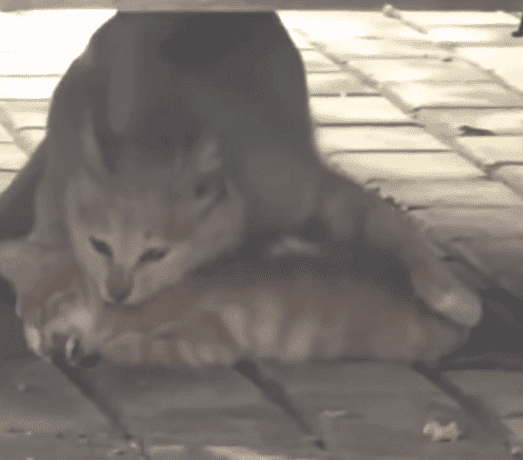 Source: Youtube/Daily Mail
But there are other people who could use a reminder of the loving instincts of animals, which go beyond the need for survival and reproduction, and there are many examples of this, similar to the aforementioned video.
Also in China, this time in the city of Harbin, Heilongjiang Province, a stray cat was photographed as he dragged the dead body of its friend on the sidewalk in an effort to put it in a safe place.
These beautiful and touching acts of love and kindness sometimes happen even between different species. Take, for instance, the story of a heroic family dog that refused to leave a burning building before some newborn kittens were rescued.
After an Australian family managed to escape the home unharmed with the help of firefighters, they noticed that one of their dogs, Leo, a Jack Russell cross, had stayed behind.
The firefighters went back to the burning home to find Leo unconscious next to the newborn kittens. He had already stopped breathing, but with the quick assistance of the rescuers, Leo and the kittens survived.
There is definitely much to learn from our furry friends. If we all learn from these examples of kindness, courage, and selflessness, we could surely build a much fair society.
Please fill in your e-mail so we can share with you our top stories!