Rachel Maddow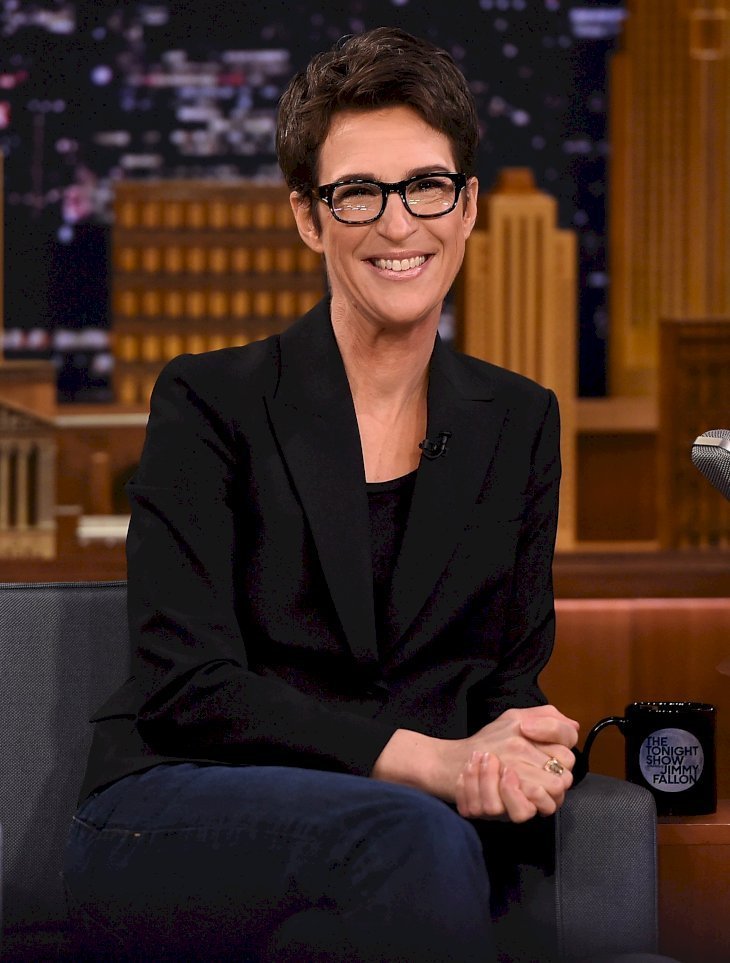 Content
| | |
| --- | --- |
| Full Name: | Rachel Anne Maddow |
| Date of Birth: | April 1, 1973 |
| Place Of Birth: | Castro Valley, California, U.S |
| Zodiac Sign: | Aries |
| Age: | 45 years old |
| Height: | 1.8 m |
| Professions: | Television host and political commentator. |
| Famous For: | The Rachel Maddow Show |
| Net Worth: | $7 million |
| Spouse/Ex: | Susan Mikula |
| Social Media: | Facebook, Twitter, Instagram, Wikipedia, IMDb |
Who is Rachel Maddow?
Rachel Anne Maddow is a television host and political commentator with liberal views. She hosts "The Rachel Maddow Show" on MSNBC every night. She is also the station's special event co-anchor and has a syndicated talk radio program on Air America Radio.
Maddow has a doctorate in politics from the University of Oxford. She is the first openly lesbian prime-time news program host in the United States. 
Early life:
Rachel Anne Maddow was born on April 1, 1973, in Castro Valley, California. She is the daughter of Robert B. Maddow and Elaine Gosse.  
She has one sibling, an older brother, David. Her father's side comes from Eastern European Jews, and her mother is Canadian and has English and Irish ancestry.
She grew up in a conservative community with a Catholic family. Maddow was also a competitive athlete, and in high school, she played volleyball, basketball, and joined the swim team.
She graduated from Castro Valley High School and went on to study at Stanford University. In her freshman year, she was exposed as a lesbian in the college newspaper after an interview with her was published before she could tell her parents.
In 1994, Maddow graduated with a degree in public policy from Stanford. She was given the Rhodes Scholarship, and in 1995 she started studying a postgraduate at Lincoln College, Oxford. She was the first openly lesbian American to win an international Rhodes Scholarship. Maddow earned her Doctor of Philosophy (DPhil) in politics at the University of Oxford in 2001.
Career:
In 1999, Maddow worked as a radio presenter for WRNX (100.9 FM) in Holyoke, Massachusetts. The station was running a competition to find a new sidekick for Dave Brinnel, who hosted "The Dave in the Morning Show," and Maddow won. She eventually became the host of "Big Breakfast" on WRSI in Northampton, Massachusetts.
She worked there for two years before leaving in 2004 to join the new Air America, where she co-hosted "Unfiltered" until it got canceled in March 2005.
By April 2005, Maddow started a weekday two-hour radio program, called "The Rachel Maddow Show." By March 2008 the show was extended by an hour. However, it later returned to two hours when Rachel Maddow started hosting a nightly MSNBC television program. Then after renewing her contract with Air America, in 2009, she returned to her 5 a.m. one-hour slot.
At the same time, she also juggled a TV career. She became a regular panelist on the MSNBC show, "Tucker" in 2005, and then during and after the November 2006 election, Maddow served as a guest on CNN's "Paula Zahn Now." During this time she also became a correspondent for "The Advocate Newsmagazine."
Finally, by 2018, she was a political analyst and a regular panelist on MSNBC's "Race for the White House with David Gregory."
2008 also saw Maddow substitute as the host for Countdown with Keith Olbermann. This was her first hosting job at MSNBC. Her success with the position saw her continue to fill in for several broadcasts.
Eventually, Maddow was given her own show in August 2008, "The Rachel Maddow Show," which replaced "Verdict with Dan Abrams" in the network's 9 p.m. slot. Having her own show made her the first openly lesbian to host a primetime news program in the United States. "The Rachel Maddow Show" was initially well received and positively reviewed. 
She has also dabbled in writing. Maddow wrote "Drift: The Unmooring of American Military Power" in 2012 and topped The New York Times Best Sellers list for hardcover nonfiction. In December 2013, Maddow began writing a monthly opinion column for "The Washington Post." She was to contribute one article per month for six months. Then the "New York Times" published her first crossword puzzle On March 2, 2018. She worked on the crossword with the help of Joe DiPietro. 
Personal life: 
Maddow lives with her partner, Susan Mikula. They travel between Manhattan, New York, and West Cummington, Massachusetts. The couple met in 1999 while Maddow was studying towards her dissertation.
She has suffered from cyclical depression since puberty and is open about it. She has learned to live with it and treat it accordingly. Maddow once said, "There are three things I do to stay sane: I exercise, I sleep – I'm a good sleeper – and I fish."
"Clearly, there has been a lack of imagination about how much can go wrong." ~Rachel Maddow 
Trivia
Partner since 1999 of photographer Susan Mikula. Their first date was celebrated at a gun range.
Maddow received a bachelor's degree in public policy from Stanford University. She earned her doctorate in political science at Oxford University, which she attended on a Rhodes Scholarship.
"The Rachel Maddow Show" has been nominated by the Television Critics Association for "Outstanding Achievement in News and Information," and TRMS received a GLAAD award in 2010.
She first gained national prominence as a host on Air America Radio, where she worked from its inception in 2004. Prior to joining AAR, she worked for WRNX in Holyoke, Massachusetts, and WRSI in Northampton, Massachusetts.