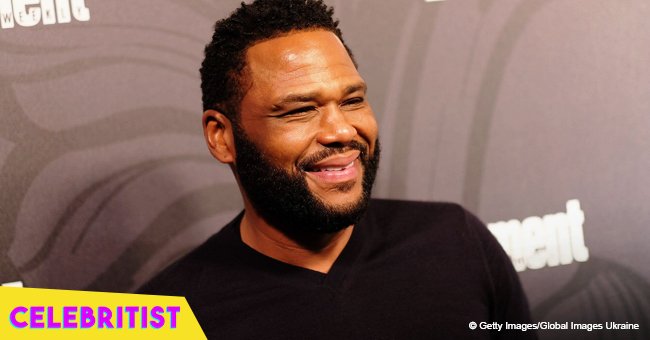 Anthony Anderson says teen son 'found his wife' at school before classes even started
Nathan Anderson seems to believe he found the girl who will become his wife, after only two days of being at his new campus in college. His father, Anthony Anderson, says the boy is following his steps, and revealed massive news about his plans for graduating with Nathan.
The "Black-ish" star recently visited "The Tonight Show" with Jimmy Fallon, and among other things, the pair talked about Anderson's family. The actor revealed that he dropped his teenage son at his alma mater, Howard University, a few weeks ago, and the boy had one more week before starting his freshman year.
FOLLOWING DAD'S STEPS IN LOVE
However, two days later, Nathan called his dad to reveal fantastic news: he had found the love of his life. "I left on a Sunday. He called me on Tuesday and was like, 'Dad!' And I said, 'What's up, son?' He was like, 'I found my wife,'" he revealed to the amused audience and TV host.
And added:
"I was like, 'Son! It's only been two days. School hasn't even started yet. You've got another week before classes start.' I was like, 'Son, you may miss out on finding your wife because you think you already found your wife.'"
But Anthony revealed that if Nathan indeed finds his wife on college, he would be repeating his parents' story.
The 48-year-old star met his wife, Alvina Stewart, of her first week as a freshman in Howard University.
FOLLOWING DAD'S STEPS IN THE INDUSTRY
Nathan, like his dad, is also an actor. The 18-year-old starred in Netflix' "Richie Rich," and is currently playing Rev Run's son on "All About the Washingtons."
According to Anthony, his son has too much "swag," and for that reason, he was unable to get a role in "Black-Ish." The actor revealed on a visit to the "Rachael Ray Show" that Nathan had auditioned for the role of young Andre on the show, but he was "too cool" for it.
He said:
"I wanted him to be Andre Jr. on 'Black-ish,' but my son's cool factor… You know, he just has a little too much swag, and I don't know where he gets it from," he said. "I sometimes question if he's mine or not. His swag factor is just off the charts! And we needed him not to be goofy, but just be a nerdy kid, and he couldn't shake that. And so I couldn't cast him!"
GRADUATING WITH DAD
After being put in the spotlight by Jimmy Fallon, who asked Anderson if he had graduated or not from Howard, the actor revealed that, indeed, he never got his diploma because of financial reasons. "I was paying for college myself, and I ran out of money after my Junior year," he said of his decision to drop off college.
But the actor is determined to finish his studies, and he said that he's speaking to the university's authorities to let him take some online courses to get back on track with his career and, hopefully, graduate with his son in a few years.
"I've been speaking with the university and Dr. Frederick, who's the president of the university, about creating a curriculum that I can take online and at home and do some practical classes on campus so I can walk with my son in 2022," he said. "So I have four years to finish one year of college."
The Anderson family will be filled with joy when that day comes, and Anderson is proving with his actions that is never too late to reach personal goals.
Please fill in your e-mail so we can share with you our top stories!