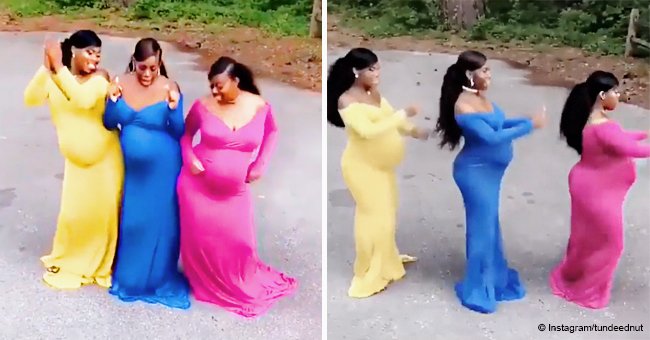 Video of 3 pregnant women dancing to 'In My Feelings' goes viral
These three sisters share more than the same last name; they were also pregnant at the same time and without planning on it. As part of their special joint maternity photo shoot, they did the pregnant version of the In My Feelings challenge, and people loved it.
The girls, Chanequa, Nette, and Mona, rocked the same dress but in different colors: yellow, blue and magenta. The stylish off the long off the shoulder dress enhanced their figures, hugging their baby bumps and accentuating their figures.
The sister also had matching hairstyles, with their long curls tied back in a low ponytail, and they kept their makeup on natural tones, as they posed together for a series of pics in what looks like a park.
Joining thousands of people around the world, the pregnant ladies also recorded their own choreographed version of Drake's "in My Feelings," jumping and bumping their hips, caressing their baby bumps and moving their hips in circles while smiling.
The video caught the attention of Tunde Ednut, a famous Nigerian singer and social media star, and has earned over 290k reproductions. The singer and the rest of the world had the same question for the sisters: "did they plan their joint pregnancy?"
According to Chanequa's comments, they didn't. She says it was "fate," revealing than when she came to confide her little secret to her sisters; they surprised each other by admitting they were also keeping the same secret.
The girl's parents were allegedly delighted by the news. Nette had a boy, her second baby, and first son. Mona, a first-time mom, also had a boy, While Chanequa, who already had a son, gave birth to a girl this time around.
"When I told my sisters my secret, little did we know WE ALL KEEPING THE SAME ONE #FATE #BLESSINGS #TheJourneyofALifetime & I get to experience it with My Beautiful Sisters," Chanequa captioned a black and white portrait of the sisters.
The babies will surely grow up with an incredible bond as cousins, as they will be contemporary with each other.
Although it was fun while it lasted, the "In My Feelings" challenge went the graveyard of social media challenges a few weeks ago, after being dethroned by Ciara's "Level Up" challenge.
Many people titled the challenge as dangerous because it required for people to get out of their moving car while doing the choreography, which could have easily caused an accident on the road. A Mexican girl learned her lesson the hard way.
She was in the middle of her challenge when her enraged mother came out of the house, screaming and telling the girl to go clean up her room instead of wasting her time doing her weird dances.
Please fill in your e-mail so we can share with you our top stories!