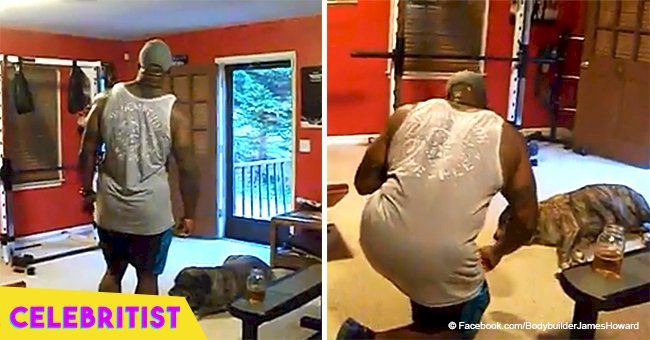 This giant bodybuilder went viral after his wife secretly videotaped him singing country song
A Georgia bodybuilder was taking a break in his home gym when he decided to sing some of his favorite country songs. He had no idea he'd be performing them on concert stages soon, all thanks to his wife.
James Howard, a bodybuilder in his 40s, sat on a gym bench in his workout gear and belted out the lyrics to the George Strait hit track, "Troubadour." He had no idea his wife, Kim, was secretly recording him.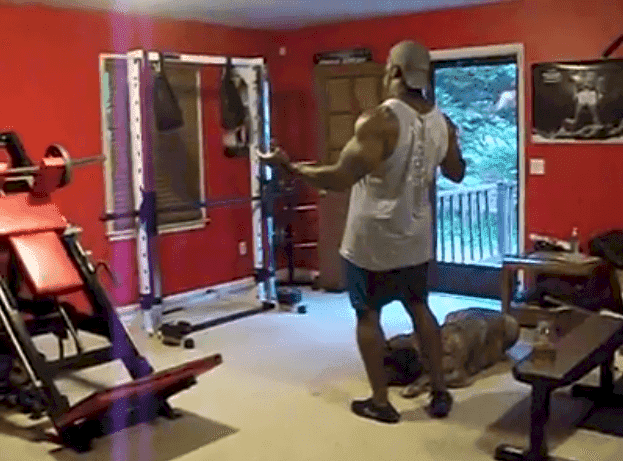 Facebook/James Howard
At some point during the heartfelt rendition, James got down on one knee to serenade his dog, and even though the canine looked like he'd instead be sleeping, James encouraged, "Come on, we gotta show some enthusiasm. Get up."
Eventually, he turns around, realizes he's being filmed, and with a bewildered look, asks his wife, "What are you doing?"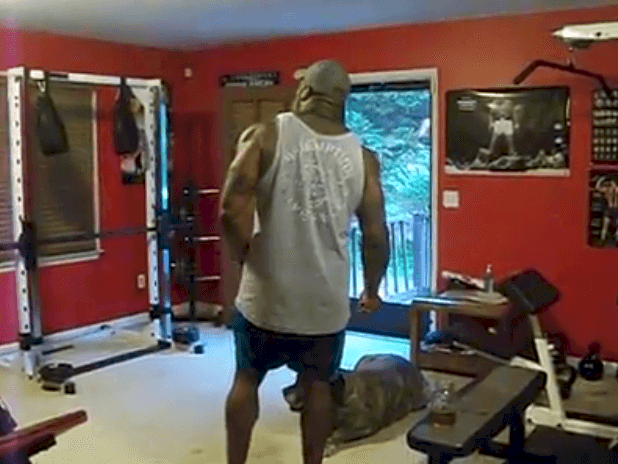 Facebook/James Howard
Kim posted the video almost two-minute video on Facebook for friends and family who she thought would be amused at her husband's display. She did not expect the post to go viral and be viewed by many people across the world.
The post went up in September 2014, and one month later, already had over 23,000 likes, 28,000 shares, and 340 comments. As at the time of publishing this article, the number of shares has risen to more than 30,000.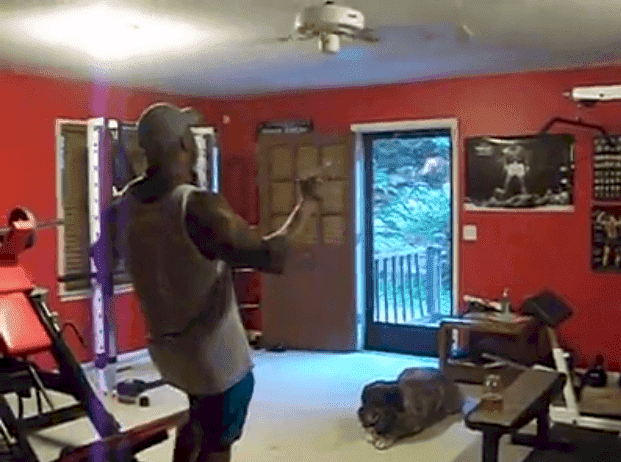 Facebook/James Howard
James' video also drew the attention of prominent country musicians. Leslie Satcher, the songwriter who responsible for "Troubadour" sent James a signed CD of her songs and Country singer Tracy Byrd sent James a guitar and asked him to sing one of his songs.
James, an African-American security expert, revealed how overwhelmed he was by all the attention:
"There's a lot of craziness. I've been invited to sing from Jacksonville to Mississippi to Arkansas to Texas," he told the Athens Banner-Herald.
James also hopes to continue encouraging others to explore beyond cultural borders.
"A young black guy contacted me and said, 'James, I've never listened to country music before, but with you singing it I finally understood the meaning behind the words. I'm going to try and open my mind and listen to more of the music.' I thought that was great because you need to explore new opportunities. Don't leave yourself in one area. There is so much you need to experience."
MUSIC BEYOND BORDERS
Although country music is widely considered as a genre favored by whites and only folks of the older generations, more people, like James, are breaking the stereotype.
A 2013 X-Factor contestant, 17-year-old Willie Jones stunned the audience and judges with his rendition of a country classic.
When Jones walked in rocking a denim vest and a blue flannel tied around his waist, the judges did not expect the young chap to go the country route.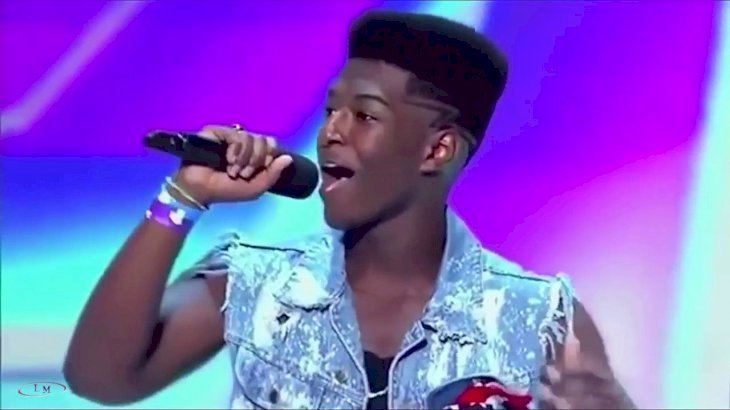 YouTube/Yes You Can Sing
Simon Cowell and the rest of the panel first expressed shock as the intro to "Your Man," by Josh Turner came on over the speakers, and as Jones belted out the first lyric, the audience burst into loud cheers.
You can read the rest of that story and watch Jones' mind-blowing performance here.
Please fill in your e-mail so we can share with you our top stories!