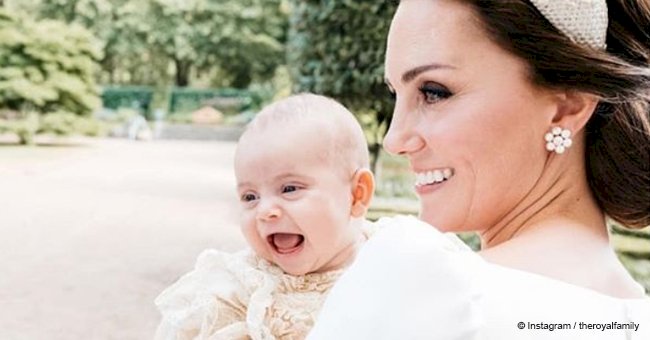 Here are some unusual royal baby traditions most people have no idea about

With the exciting announcement of a new royal baby along the way, we decided to look at some weird royal traditions. How well will Meghan Markle be able to follow these?
Prince Harry and Meghan Markle told the public that they were expecting on the weekend. Markle revealed the pregnancy at 12 weeks along. That in itself is a tradition.
It is customary to wait about three months before letting the world know about a royal pregnancy. Also, the first one to know has to be none other than the Queen.
Follow us on Twitter @amomama.
A HOME BIRTH WAS COMPULSORY
Until Princess Diana was born, the royals were confined to giving home births.
Mothers used to avoid unfamiliar hospitals and instead stay in their comfy homes to deliver.
Now, royals like Kate Middleton have taken to delivering in a private wing of St Mary's Hospital in Paddington, West London.
The Duchess of Sussex is speculated to have plans to go back to the old ways. She may deliver at home as Queen Elizabeth did.
WHO IS ALLOWED IN THE DELIVERY ROOM
She will need a witness regardless of what she decides. It is obligatory that someone is present to ensure the royal newborn is not replaced by another of non-royal blood.
But it can't be Prince Harry. Royal fathers are banned from the delivery room.
Actually, this rule is no longer followed. This is again thanks to Princess Diana, who had Prince Charles in her room while giving birth.
Midwives, however, will be there to make sure everything happens perfectly. And then they won't speak a word of it because they are sworn to secrecy.
ROYAL CHILDREN ARE STRICTLY HOMESCHOOLED
Or so it was before. The young children were kept separate from the commoners in times past.
The Queen herself was educated by tutors. But that tradition has since changed.
Her son Prince Charles went to private schools. As did Princess Diana's sons and those who followed.
NO GRANDPARENTS ALLOWED
Another forgotten rule was that non-royal grandparents were kept away from their royal grandchildren.
Now, even the queen has fully embraced non-royals into their fold.
Markle's mom Doria Ragland moved all the way to London to be with her daughter. So we're sure she'll play a large role in her granddaughter's life, too.
POSTPARTUM FASHION IS IMPORTANT
The fact that they just gave birth to a whole new human is beside the point.
The royal women will still have to look amazing for the public when they step out.
Their postpartum outfit must be carefully chosen to ensure that they remain graceful and elegant.
Even the royal baby has to be donned in a particular wear. The new child will wear a replica of a christening gown from 1841.
THERE ARE DRAMATIC ANNOUNCEMENTS AND CELEBRATIONS
After the birth, an announcement will be typed up on royal letterhead by the OB. Per tradition, it will be the first time the gender is revealed.
There will be no name given as yet, just the gender. Then it will be driven to the palace in grand fashion and placed on an easel outside the palace.
Meanwhile, tradition holds that a 62 gun salute will take place at the Tower of London. At Green Park, a 41 gun salute will be done.
MANY FIRST NAMES, NO LAST NAMES
Royal parents must somehow decide on not one or two, but three or four first names.
Traditionally, they name the babies after previous monarchs or other members of the royal family, so maybe it won't be so hard to choose after all.
Furthermore, the Royals don't have last names. So there is no need to make sure a first and last name sounds just right.
Interestingly enough, they sign their "full names" out using their titles. For example, Prince George writes "George Cambridge."
PATERNITY LEAVE IS TAKEN
It is the tradition for royal fathers to take paternity leave following the welcome of their new child.
This allows the men to adapt to their new role and to practice customs related to the new heir.
AT LEAST FIVE GODPARENTS ARE CHOSEN
It is customary to have a handful of godparents to the new royal child. We're not sure why, but it may be because they don't want to leave out anyone and offended them.
Even commoners know that problem all too well.
THE BABY IS CHRISTENED SOON AFTER BIRTH
The christening is usually the first public appearance of the new royal. It is traditionally conducted by the head of the Church of England.
As for the first appearance of the baby bump before all that, the public can speculate away.
And they did just that for Markle in the past few months. Express broke down the telltale signs of the pregnancy in hindsight.
Judi James, a body language expert, pointed out signs at Markle's project launch on September 20.
She highlighted the presence of Markle's mother Ragland. She also referenced the way Markle put her arms across her stomach.
Now, the internet is searching heavily for pictures reflecting Markle's tiny bump.
And, of course, they've got some. The media focused on shots taken during Harry and Markle's Australian tour earlier this week.
Markle wore a tight-fitting white dress that showed off her slim figure and her small baby curve.
We wonder what traditions Markle will stick to as she goes about her motherly duties in the near future.
Please fill in your e-mail so we can share with you our top stories!