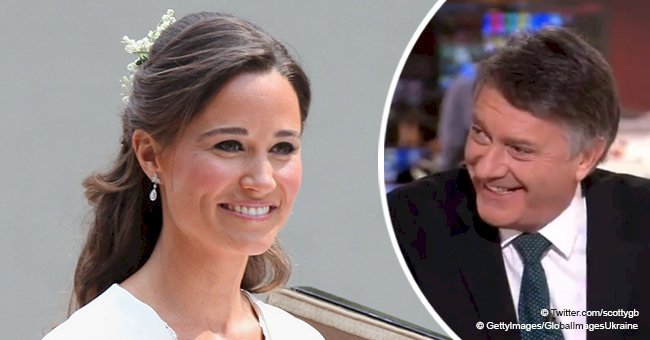 TV newsreader tries to contain his laughter while announcing Pippa's new arrival
Simon McCoy made the announcement of Pippa Middleton's new baby. Twitter users loved his hilarious delivery as he just didn't seem to care.
The BBC Newsreader was given the task of letting viewers know that Pippa, Kate Middleton's sister, had birthed her first child.
The baby was born in the Lindo Wing of St Mary's Hospital in Paddington on Monday, October 15. The clip of the report is found below.
Follow us on Twitter @amomama.
It appeared that McCoy could not care less though. The beloved reporter could hardly keep himself together as he made the announcement.
He began:
"Within 24 hours of some royal baby news, I've got some more."
He continued:
"Pippa Middleton-" McCoy let out a snigger before he continued - "sister, of course of Kate has given birth."
While laughing, McCoy struggled to relate the obvious details of the news:
"It says here, has given birth to a baby."
McCoy finally regained his composure and wrapped up the news by sharing Kensington's statement :
"The Duke and Duchess of Cambridge have said they are thrilled for Pippa, and her husband James."
McCoy then gave "congratulations from all of us" and informed viewers that the station would "have more on that later."
The baby reportedly weighed 8lb, 9oz and was said to be "doing well." She entered the world days after Princess Eugenie's wedding on Friday.
The news came a day after The Duchess of Sussex Meghan Markle and Prince Harry's pregnancy announcement.
Last year, McCoy once again showed how unimpressed he was with news coming out of the Royal Palace.
Source: YouTube/ UtubeNewzUpdatez
The Duke and Duchess of Cambridge had already announced their pregnancy months before. They were now offering a more specific period for the birth of their third child.
McCoy relayed the news that the couple would be expecting in April. Then he spoke bluntly about the redundancy of the so-called "breaking news."
"Now, bearing in mind they announced she was pregnant back in September, and it was thought she was around two or three months pregnant, I'm not sure how much news this really is, but anyway..."
Twitter users were happy to relate to McCoy's sentiments regarding the royal announcement.
Please fill in your e-mail so we can share with you our top stories!