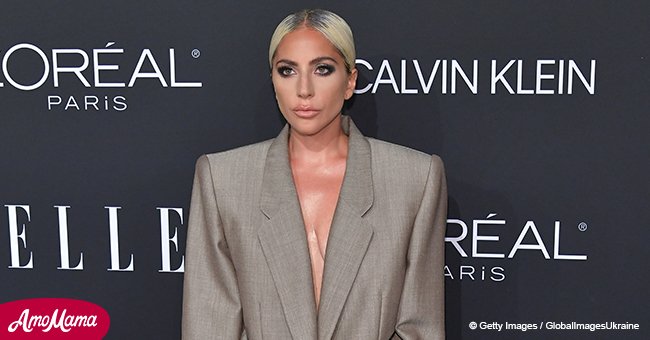 Lady Gaga dons oversized suit during her speech about sexual assault
Lady Gaga is at the center of the spotlight thanks to her dazzling performance as Ally in the film 'A Star Is Born', but this Monday, October 15, she again gave something to talk about not only because of her talent but because of her attire.
Lady Gaga astonished those present at Elle's Women event in Hollywood, where she presented herself with a masculine look composed of an oversized Marc Jacobs suit. The singer revealed that behind her election there is a message of power, and told how she came to choose this colorful outfit.
"I tried on dress after dress today getting ready for this event, one tight corset after another, one heel after another, a diamond, a feather, thousands of beaded fabrics and the most beautiful silks in the world," Gaga said. "To be honest, I felt sick to my stomach."
Gaga was named by Elle as one of the stars of Hollywood. With her recent film premiere, Gaga was immediately in this category. But her speech was not that of a diva. Read more on our Twitter account @amomama_usa.
Quite the contrary, Gaga spoke very honestly of her own insecurities, of the sexual abuse she suffered, of mental illness and, from this very vulnerable place, she made a plea for us to lean on, raising our voices and "leading the world towards kindness."
"And I asked myself: What does it really mean to be a woman in Hollywood? We are not just objects to entertain the world", she said. "We women in Hollywood, we are voices ... We have the power to speak and be heard and fight back when we are silenced."
Lady Gaga revealed that the sexual assault she suffered when she was 19 years old was on the part of "someone from the entertainment industry", of whom she still does not dare to say the name.
The singer said that when she told her experience to powerful men in the industry, they "hid because they were afraid of losing their power."
Lady Gaga added that at that time she suffered depression and eating disorders, and wanted to thank all the good things that had happened to her later such as meeting Christian Carino, the man she started dating in February 2017 and to whom she has referred for the first time as her future husband.
"I had a revelation that I had to be empowered to be myself today more than ever," she said. "To resist the standards of Hollywood, whatever that means. To resist the standards of dressing to impress. To use what really matters: my voice."
The performer made the revelation last night during the party held by Elle magazine, after receiving the Hollywood Woman of the Year award for her role in the movie A Star Is Born.
Lady Gaga has shown again and again that she is a wonderful woman and an example to follow in her struggle to defend those who are left behind by an oppressive system. Hopefully, her voice will be more and more heard.
This news reminds us of when Lady Gaga revealed what had been the only thing that Bradley Cooper forbade her to do during the filming of A Star Is Born.
According to the singer, that only prohibition was just what she needed and made a huge difference in the quality of her work.
Please fill in your e-mail so we can share with you our top stories!