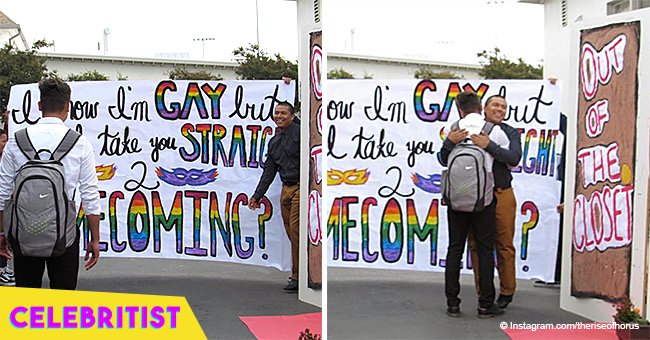 Gay student asks straight football team captain to homecoming in touching viral video
A gay high school student musters up the courage to ask his straight friend to the homecoming dance. His proposal was one of a kind.
It was National Coming Out Day on October 11 and high school senior Alexander Duarte used it as an opportunity to ask an important question. In front of a crowd of students, he asked his straight male friend to be his date to their homecoming dance.
WHY ASK?
Duarte and Erick Pineda have been friends for three years. Pineda is straight and is the captain of the football team but they've managed to get along. According to Duarte, Pineda has been very supportive of him that it felt right to ask him to the dance. He also wanted to teach others the meaning of acceptance through their example.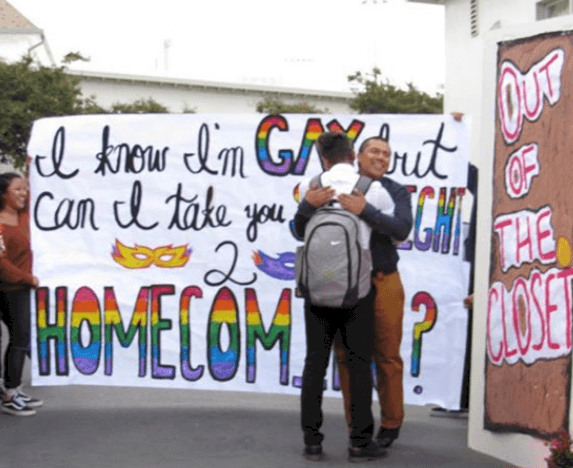 Source:
THE PROPOSAL
In this age of promposals, Duarte knew his proposition had to be special. Weeks before, he already hatched his ideas and set them in motion. He prepared two posters that he intended to place in an area where Pineda would walk by.
On the day of the proposal, a crowd gathered before a surprised Pineda discovered what his friend had in store for him. Standing on the walkway was a huge closet bearing the words "Out of the Closet." Next to it, Duarte stood peeking from behind a giant colorful poster that read,
"I know I'm GAY, but can I take you STRAIGHT 2 HOMECOMING?"
The song, "A Thousand Years" played as the crowd cheered while Pineda approached a waiting Duarte. Someone shouted "You go, Erick! You're my hero!" in the background of the video that documented the whole thing. The two friends hugged and it was at that moment when Pineda accepted his friend's proposal.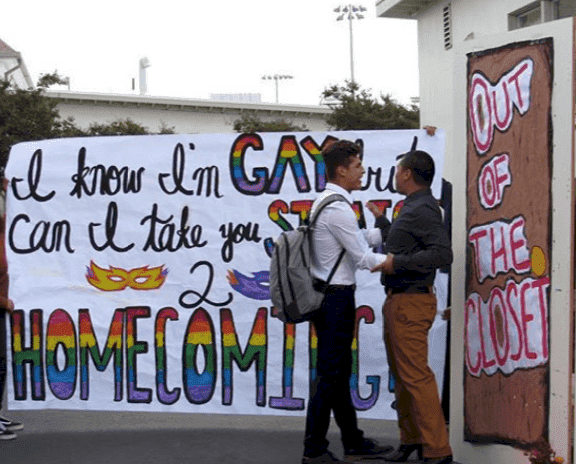 Source:
INSPIRING OTHERS
The scene that transpired in Valley High School in Santa Ana, California became a source of inspiration to many who witnessed it on social media. According to Duarte, he just wanted to inspire others to embrace their identities. For Pineda, aside from wanting to make his friend happy, it was a means to set an example to others. Even his teammates in football were very supportive.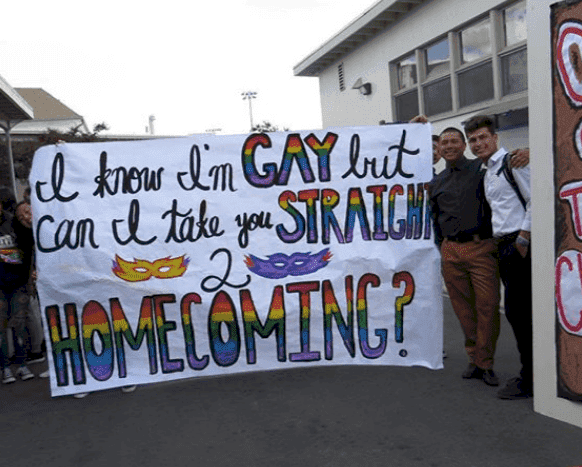 Source:
THE REVERSE
It was the reverse in another high school in Las Vegas where a straight student asked his gay best friend to be his date to the prom. Jacob Lescenski couldn't find a date so he thought of asking his best friend, Anthony Martinez, who happened to be gay.
Lescenski's proposal came in the form of a rhyme. He surprised Martinez who was selling prom tickets at the school corridor at the time. Lescenski, with the help of his friends, held up a giant poster which bore his creative invitation. It read,
"You're hella gay, i'm hella str8, but you're like my brother so be my d8"
The promposal earned admiration in social media. Martinez was thrilled to be going to the prom with a guy. Lescenski, who made an impact with his thoughtfulness was just happy that he made his friend happy.
Please fill in your e-mail so we can share with you our top stories!