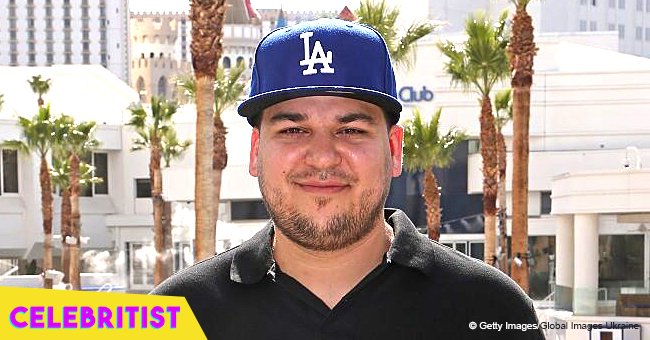 Rob Kardashian reportedly lost about 30-50 pounds since his very public split from Blac Chyna

Robert Kardashian has been wanting to change his life for the better, and there's no better way to start doing that by taking good care of himself first. That's exactly what the reality TV star did, as he has reportedly started to take the necessary steps needed for him to lose weight, and patch up his relationship with his family.
The 31-year-old had a very public breakup from his ex-fiance Blac Chyna back in 2016, who is also the mother of his child, Dream Kardashian. Given that he has remained out of sight for months due to their split, it came as a shock to many when a source found by ET Online reveals that Robert has lost an estimated 30 to 50 pounds since then. The source adds that Kardashian has been pushing himself to get his life back on track, especially for his daughter, whom his life is centered on.
"Getting out of the spotlight was so important for Rob. He needed to completely change his life, things were spiraling out of control for him and his health and relationships were suffering. He needed to refocus."
Rob was in a depressing place last year, given his public spat with his then-girlfriend. However, now that things have started to cool down, he is in a much better place and has even been successfully co-parenting his child with Chyna. Other than trying to stay amicable with his ex-fiance, he has also been working hard to become a healthier version of himself with the help of exercising and eating a proper diet.
It's not just Robert who's trying to be better, but even Blac Chyna herself, who says that she does not regret her relationship with the Kardashian one bit because it gave them their beautiful daughter.
They have stopped calling each other out publicly, given that their daughter is growing older and soon she will get to read what goes on the internet.
Since their public feud spanning 2016 to 2018, Rob and Blac are in a much better place and this has made them have an amicable relationship for the sake of Dream. Hopefully, it will stay this way for good.
Please fill in your e-mail so we can share with you our top stories!