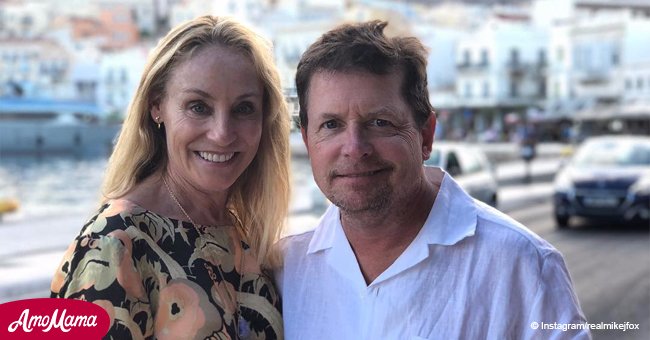 After 30 years together, Michael J. Fox's wife breaks her silence about their happy marriage
Michael J. Fox met Tracy Pollan when they starred as boyfriend and girlfriend on "Family Ties." He proposed on December 26, 1987, seven months after the two had started dating in real life.
This year, the couple celebrated 30 years together. He and his wife have revealed the secret to their long and happy married life.
Canadian Michael J. Fox, 57, was raised as an Episcopalian army brat. He was also a high school dropout who earned his GED in his 30s.
His wife, Tracy Pollan, 58, on the other hand, was the complete opposite. She came from a prominent Jewish New York family and had studied at the Lee Strasberg Institute.
For more on this story go to our Twitter account @amomama_usa. However, they had some things in common: "Big families, middle children," according to Fox.
He also revealed that both families also had a sense of humor. However, one thing has kept them going through all the decades.
Pollan explained:
"It was us against the world. That's exactly what we've created."
After meeting on "Family Ties" in 1985, they reunited for the film "Bright Lights, Big City" in 1987. That's when he asked her to lunch and they started dating.
Seven months after they started dating, Fox proposed and within a year they were married. They tied the knot on July 16, 1988, at West Mountain Inn in Arlington, Vt.
In 1991, Fox was diagnosed with Parkinson's disease. The illness is a neurodegenerative disorder that causes tremors, stillness and, the loss of motor skills.
Despite this, Pollan stood by his side. He slowly came to grips with the diagnosis, struggled with alcoholism and eventually became a powerful activist.
The two had four children, son Sam, 29, twin daughters Schuyler and Aquinnah, 23, and another daughter Esmé, 16. According to Pollan, the key to a long marriage is to "Just give each other the benefit of the doubt. He assumes I'm doing the best I can."
Fox added that the one thing you could do was "Find the best things about you and the best things about life and celebrate them."
Michael Andrew Fox was born on June 9, 1961, and is known professionally as Michael J. Fox. He is a Canadian-American actor, author, film producer, activist, and comedian.
His film and television career started in the 1970s and he's well-known for acting in the "Back to the Future" trilogy where he played Marty McFly.
Please fill in your e-mail so we can share with you our top stories!