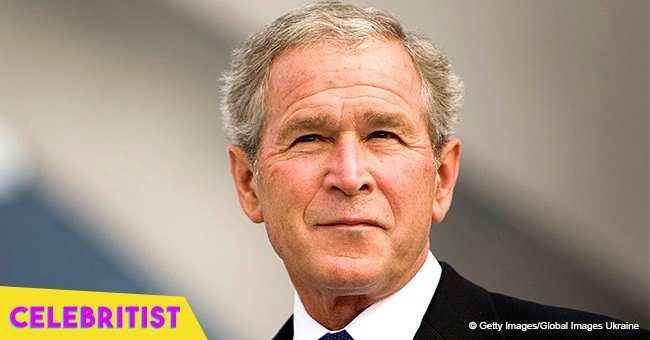 Sweet image of George W. Bush photobombing daughters at wedding goes viral
He graced the limelight as one of the most powerful men in the world. But in a recent photo, former US President George W. Bush provided comic relief as a photo bomber.
It was the day of Bush's daughter's wedding and photos became a big part of the celebration. Jenna Bush Hager was among the many who paid tribute to the bride, her sister Barbara Bush.
She captured a beautiful moment between them where she's hugging her sister and kissing her at the side of her forehead. But what was meant to be a precious candid moment between sisters became a rare photobombing event involving their father. Peeking from behind them was the head of the 43rd US president.
The cute photo has now drawn more attention not only for the closeness depicted by the sisters but by their father's comic intrusion. It seemed like he just really wanted to get in on the beautiful moment. It didn't keep Jenna from posting the photo, most likely for the simple reason that it showed a different side of their father not many may be privy to. It was a priceless shot, no doubt.
"Thought this was just a simple picture of a sisterly hug," she wrote to caption the photo, throwing shade on the obvious.
THE WEDDING
The photo was taken on the day of Barbara's wedding to screenwriter Craig Coyne. They tied the knot at her family's Walker Point compound in Kennebunkport, Maine. Barbara wore an ivory silk crepe Vera Wang gown during what she described as "a very short, sweet ceremony." For her "something borrowed" she wore a bracelet her grandfather George H.W. Bush gave to her late grandmother and namesake Barbara Bush. She also wore a pair of earrings from her sister Jenna for her "something blue."
THEIR ROMANCE
The couple met on a blind date arranged by their friends in November and immediately committed to each other by New Year's Eve. Their whirlwind romance thrived despite their distance. Craig was based in Los Angeles while Barbara lived in Manhattan. In the summer, Craig got down on one knee at the shores of Kennebunkport. It was the same spot Barbara's grandparents got engaged 75 years ago.
Craig and Barbara are now both based in Manhattan to start their new life as husband and wife.
Please fill in your e-mail so we can share with you our top stories!