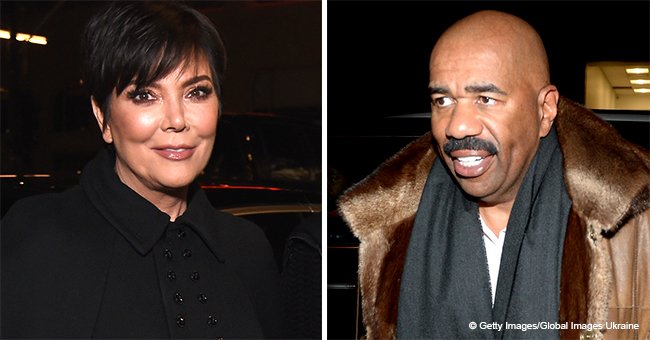 Steve Harvey breaks silence on rumors he's leaving his wife, Marjorie, for Kris Jenner
Steve Harvey is "sick" of all the rumors so he broke his silence recently and clapped back. One of the rumors he addressed was the persistent talk regarding his marriage and Kris Jenner.
Steve Harvey has finally broken his silence on tabloid stories dishing out rumors about his divorce from his wife Marjorie.
In a recent press conference via phone, he clapped back at rumor-mongers by making a joke about his alleged divorce and the $400 million payout he's expected to give his wife.
"My wife came to me and said, 'Do we have $400 million?'" he said, to which he replied, "'Nah. Not yet."
THE HARVEYS AND KRIS JENNER
News of trouble in his marriage first came to light earlier this year. Reports suggested the talk show host met several times with Kris Jenner in closed-door business meetings. They likewise said the two shared long phone calls and messaging threads. This allegedly resulted in a huge fight between Steve and Marjorie who walked out and threatened divorce. The story got even bigger when speculations emerged that the couple's divorce will amount to $400 million in Marjorie's favor.
"SICK OF IT"
Of all this, Steve said, "I'm sick of it." He added,
"They act like I don't have family. They act like my kids can't read. They don't care. They just go out to destroy people with no facts behind it."
WHAT ABOUT "STEVE"?
The actor didn't address the Kris Jenner issue but he also referred to false reports that he was fired from his talk show, "Steve." There were rumors suggesting that his show was going to be dropped to give way to a new show for Kelly Clarkson. To this, he said,
"I've always been an optimistic person. This is NBC's decision... I don't own any TV networks but I'm not a grudge type of person. I happen to be a talent. I think people recognize that. Whatever happens with the show moving forward, I'll be just fine."
GREY HAIR DON'T CARE
Another thing Harvey admitted he's tired of these days is dyeing his mustache. The grandfather-of-five confessed he's 61 years old and thought it would be a nice change.
"My wife liked it. I just think it's time to change it up every 10 years. I cut my hair off at 50. I changed my suits eight years ago."
BUBBLY SURPRISE
But that's not the only thing Marjorie likes these days. Steve surprised his wife this month with a unique gift on her 54th birthday. The comedian gave her a set of life-sized inflatables for a game of bubble soccer. Steve escorted his blindfolded wife outside their home where the zorb-like bubbles were on display. An excited Marjorie was thrilled when Steve revealed her gift. She immediately ran to change into comfortable wear to test her new toys.
REASONS TO CELEBRATE
Steve and Marjorie have been married for 11 years and just welcomed their fifth grandchild last month. There's no reason to think their marriage is in trouble seeing the wonderful events they've been celebrating lately. With Steve's latest pronouncements, let's hope the rumors cease once and for all.
Please fill in your e-mail so we can share with you our top stories!