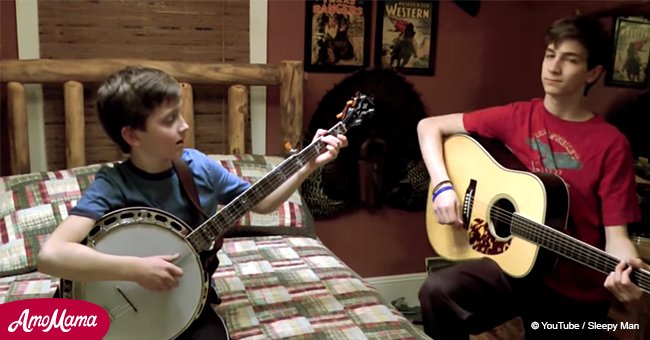 Brothers became an internet sensation with their amazing banjo performance
These brothers took the internet by storm when they uploaded their cover of "Dueling Banjos." Known as the Sleepy Man Banjo Boys, these three boys showed off their dexterity with musical instruments.
Based in Lebanon Township, New Jersey, Jonny Mizzone on the banjo, Robbie Mizzone on the fiddle, and the eldest, Tommy Mizzone on the guitar became world-class artists after uploading their video on YouTube.
The clip started with Robbie and Tommy alternating and flaunting their banjo and guitar skills. They even wowed the viewers when they started playing together showing how fast their fingers could strum and shift through the chords.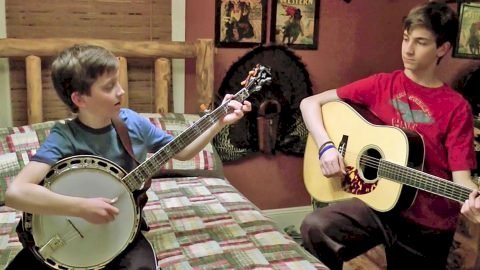 Source: YouTube/ Sleepy Man
Follow us on twitter at
AmoMama USA
for more viral videos and stories.
You would think it couldn't get more amazing, but when Robbie came into the picture with his fiddle, everyone was proven wrong.
As the video progressed, the trio ceaselessly awed everyone watching them. Since the video was uploaded in 2012, it has already received more than seven million hits.

Source: YouTube/ Sleepy Man
With how they expertly played their instruments, you wouldn't believe that they were still very young at the time.
You can only imagine how many young children were inspired by the Mizzone brothers after watching the video. Their parents must be very proud of the success that their children had attained at such a young age.
The song "Dueling Banjos" was composed in 1955 by Arthur "Guitar Boogie" Smith. Its original title was "Feudin' Banjos," and it first aired in 1963 on the small screen on "The Andy Griffith Show."
The track reached its peak when it became famous on the 1972 film, "Deliverance."
The Mizzone brothers were first became known when they appeared on the "Late Show with David Letterman" in 2011, playing "Flint Hill Special" by Earl Scruggs.
Meanwhile, this adorable 21-month-old toddler named Ella Mae became a YouTube sensation after she belted out an Elvis Presley cover.
Seating on her car seat in her father's car, young Ella Mae sang her rendition of the King of Rock and Roll's "An American Trilogy."
Please fill in your e-mail so we can share with you our top stories!