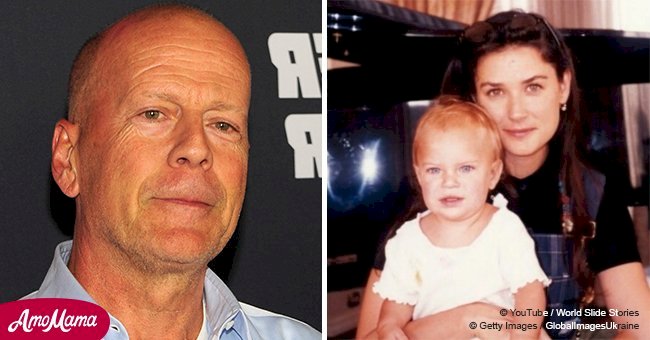 Bruce Willis' daughter was called 'ugly' by haters, but now she looks amazing
Tallulah Willis, the daughter of Bruce Willis and Demi Moore, was bullied when she was 13. Now that she's 23, she posted an Instagram photo of herself dedicated to the haters who called her "ugly."
Things have changed for the former couple's youngest daughter. She is more empowered now that she has gotten older.
Through social media, she has been using her voice to address her past issues and to inspire other people to feel as confident as her.
Around Christmas time in 2017, Tallulah took to Instagram to call out her haters who used to say she was not beautiful in a stunning bikini shot.
Follow us on Twitter at AmoMama USA for more details and updates.
The 23-year-old was on a getaway trip at the time with her older sisters, Rumer, 29, and Scout, 26.
Dressed in a red bikini, Tallulah proved that she inherited her mother and father's looks.
On the caption, she wrote, "Dedicated to everyone who called me ugly at 13."
In the past, Tallulah had been vocal about the scrutiny she received while growing up in the public eye. She said that lots of people constantly judged her appearance.
When she was 13 years old, Tallulah was diagnosed with body dysmorphic disorder, which is a mental condition where a person becomes obsessed over the idea that his or her appearance is extremely flawed.
Her condition was the result of the bullying she received as a teenager.
Talking about it in 2014 following her time in rehab, Tallulah said, "I had people when I was 13 telling me how ugly I was, and how could two beautiful actors create such hideous troll children?"
Despite all the negative comments, Tallulah only proved that those experiences only made her stronger.
She said, "So many people are telling me, 'You inspired me,' I guess I didn't understand that this is such a communal fault line, that is running through every individual on this planet that whether it's hidden or not hidden, that we all feel this certain sense of insecurity."
In 2017, Tallulah openly talked about staying sober and her eating disorder.
She went on to thank the people who have helped her surpass all her struggles as she has now become a stronger and more confident individual.
Please fill in your e-mail so we can share with you our top stories!