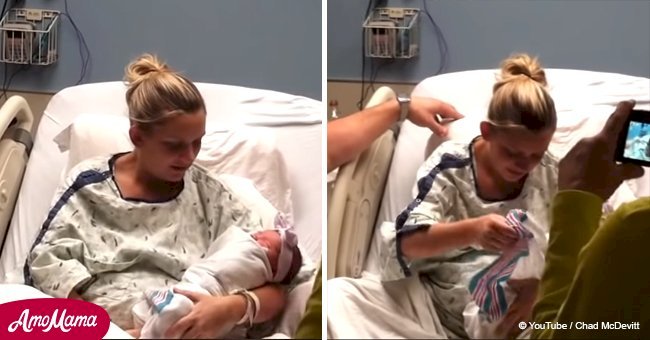 Mother cradling her newborn baby suddenly sees a message hidden beneath the blanket
Laura was undressing her newborn baby for a diaper change one day in November 2014 when she realized her boyfriend was proposing to her.
A video posted to YouTube shows a shocked Laura reading the words, "Mommy will you marry daddy?" written on the onesie.
"Is this real?" she asked in disbelief. "Yes, yes. I will!" she said, looking over to her boyfriend Chad McDevitt, also her baby daughter's father.
He then took out a ring from a small compartment in baby Everly's onesie. He got down on one knee and presented her with the ring as their family and nurses cheered him on.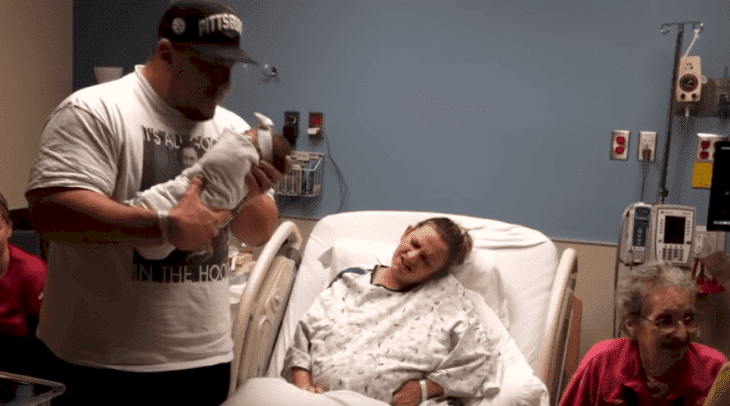 Source: YouTube/Chad McDevitt
Follow us on our Twitter account, @amomama_usa, to learn more and scroll down to watch the video below.
Laura's family was in on the surprise. Her cousin was cradling the baby when she asked Lauren to change her daughter's diaper.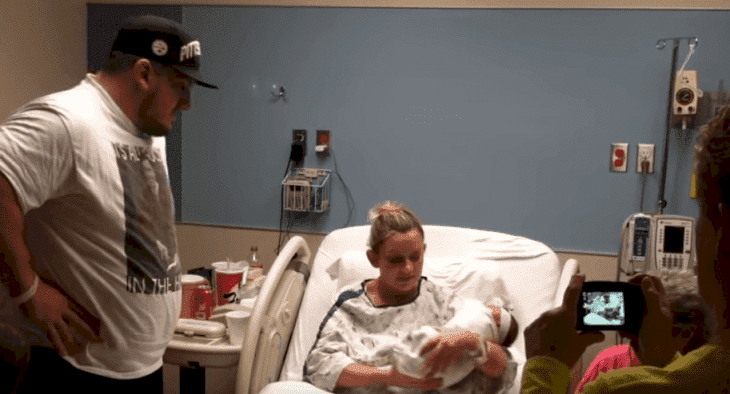 Source: YouTube/Chad McDevitt
Her cousin handed Everly over to her. Laura then started to gently unwrap the blanket her baby was covered in.
After taking off the blanket, she realized that her baby didn't need her diapers changed at all. Instead, she saw the words asking her to marry Chad written on the newborn's onesie.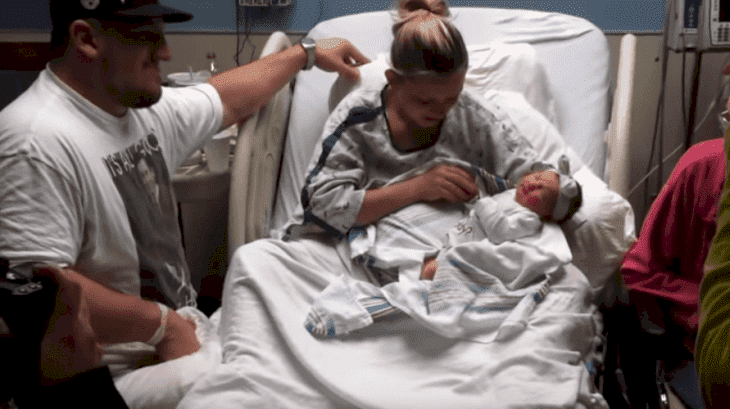 Source: YouTube/Chad McDevitt
Someone made sure to capture the special moment. The video clip, posted by Chad on November 11, 2014, has racked up more than one million views.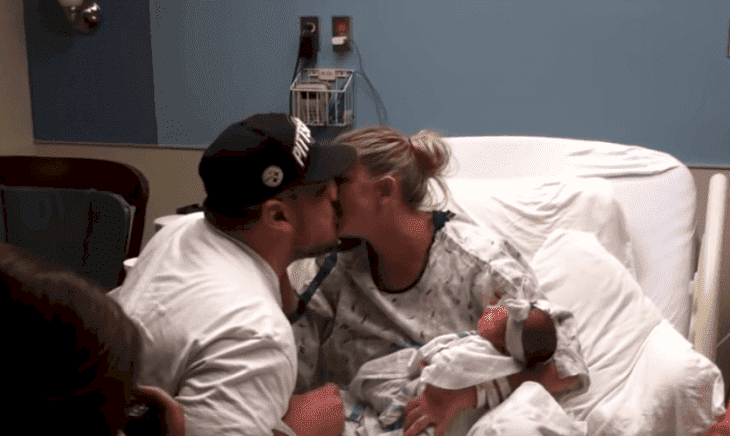 Source: YouTube/Chad McDevitt
A YouTube user commented: "I came across your story on another website and decided to look you up on YouTube. This was one of the most romantic, sweetest, thoughtful, and creative ways to propose that I have ever heard of. Congratulations on both of your children! I know time flies and they grow very quickly, so enjoy every minute you can with them!"
Another wrote: "What a very amazing way to get engaged. Wishing you and your family a long and happy life together."
This proposal may have inspired another man's proposal to his girlfriend. Mark Cole popped the question to her partner, Naee, after their baby was born.
Naee was holding their baby, Zyaire, during the baby shower conducted within a close group of family and friends when she was only told that a surprise was hidden for her by their newborn baby, Zyaire. The little baby was handed over to her first wrapped in a blanket.
The confused mother then removed the blanket to find her baby wearing a blue onesie inside. Naee was then asked to unsnap the dress. When she followed the instruction, she found yet another onesie underneath.
The second onesie, however, surprisingly had a special message, which overwhelmed her. The message read: "Mommy will you marry my daddy?"
Please fill in your e-mail so we can share with you our top stories!