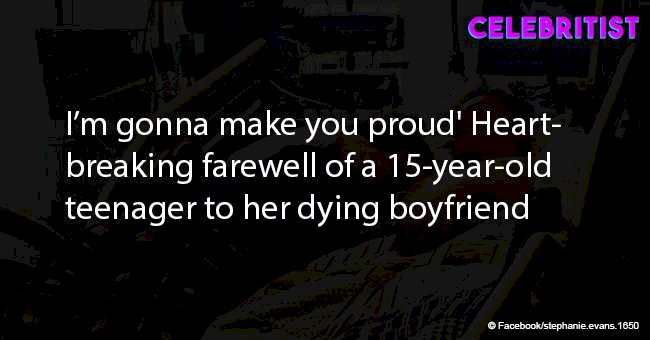 'I'm gonna make you proud' Heartbreaking farewell of a 15-year-old teenager to her dying boyfriend
This is the heartrending moment a 15-year-old girl bid her dying boyfriend a final goodbye.
Blake Ward, a 16-year-old boy from the UK, was on holiday with his family at Tywyn beach, Wales, when he encountered difficulties at sea with a couple of friends.
His girlfriend, Stephanie Ray, stayed by his side in the hospital until he breathed his last, and shared a heartbreaking tribute to him on Facebook. The message touched the hearts of internet users across the world and went viral in no time.
Ward and Ray had only been dating for a couple of months when tragedy struck earlier this year in August; Ray was forced to say goodbye.
Metro UK reported that Ward got into difficulty on the rocks at sea. A lifeboat crew member jumped into the water and helped to pull Blake from the water with the help of members of the public before CPR was carried out, and he was taken to the hospital. Doctors placed him under an artificial respirator and tried all they could.
Sadly, they were faced with an ugly truth: Ward could not be saved. On Saturday, August 4, Ward's life support machine was turned off, and a devastated Ray took to Facebook in mourning.
Alongside an image of her lying beside Ward on his hospital bed, Ray wrote:
"Today has been the hardest day for me and it will be a day I will never be able to forget. As some of you may know Blake was involved in a terrible accident on Tuesday. I have been by his side through it all and I haven't left him. As you all know Blake was a loving a caring person and would do anything for anyone. We was told yesterday that Blake would never recover and his brain was to damaged and we had to make the hard decision of turning his machine off and let him go. Blake was someone special to me and we had something special and we will always have that. Me and Blake had our ups and downs but we always got through them but just know Blake wasn't in any pain and he passed away with his family around him and he will forever be missed and he will always have a special place in my heart and I will never forget you Blake fly high my baby boy and I'm gonna make you proud love you and I always will."
A STAIN THAT SPEAKS VOLUMES
Heather Duckworth is another person who opened up about her pains in a heartbreaking Facebook post. Duckworth shared a story of how one of her four sons smeared the carpet with blue ink that refused to come out.
One month later, the same son was diagnosed with cancer and died two years later. Duckworth would remember her son every time she noticed the stained carpet and decided to bare her soul to the world.
Here's sending love and light to everyone who, like Ray and Duckworth feel the pain of losing a loved one.
Please fill in your e-mail so we can share with you our top stories!