Here is why 13 trucks blocked the highway
On Tuesday 13 trucks lined up under an overpass after an unexpected call from Michigan State police officers needing their help.
Early on Tuesday morning, an odd scene unfolded as 13 trucks got spotted lined up under an overpass on Interstate 696 in Detroit, Michigan. The trucks were blocking traffic in both directions and officers redirected them to alternative routes as the trucks remained stationary for four hours.
Michigan State police got a call early on Tuesday from emergency services about a man in Huntington Woods standing on the overpass above Interstate 696 that wanted to jump.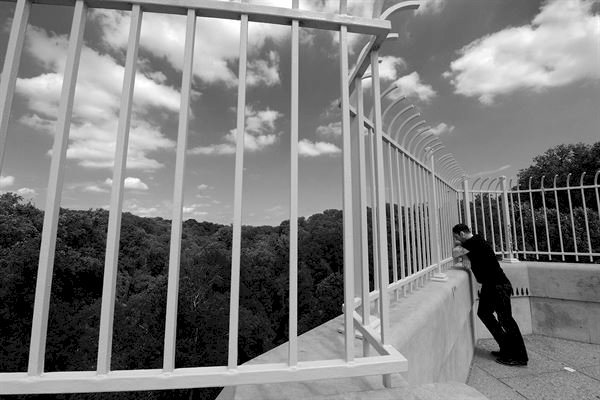 State trooper Michael Shaw took swift action and called on truckers to head for the specific location on Interstate 696, they needed 13 trucks to cover the entire area under the bridge and it didn't take long until they were all lined up under the overpass.
Read more on our Twitter account @amomama_usa.
If the man was going to jump, he would not fall far and the truckers patiently waited for four hours before the man gave up and got escorted from the bridge safely. He was then taken to get the help that he needed.
13 amazing people https://t.co/CKmayppUmf

— Sara Shuemake (@SaraShuemake) October 22, 2018
Michigan State Police Lt. Michael Shaw said they involve truckers during such incidents, but it was a first for so many to help at once. Just goes to show there is kindness and caring in this world even if we can't always see it.
Another incident that occurred in August 2014 showed the heroism involving a trucker when a car traveling in the wrong direction slammed into a truck and exploded.
David Frederickson's dash cam recorded the scene on an interstate in Biloxi, Mississippi as he ran up to the burning vehicle with a fire extinguisher to see if he could help, although he did not expect to see anyone alive.
Miraculously he saw the face of a child through the back window and tried to open the door even though it was melting from the heat of the flames.
David eventually got the door open and carried the little girl to safety. Emergency services arrived on scene to put out the burning vehicle and tend to the girl who amazingly enough had no burns on her and was physically unharmed.
In news that broke yesterday, trucks were used for help of another kind as Guatemalan migrants rallied in the hundreds at the Honduran-Guatemalan border making their way to the U.S.
Two trucks were hijacked by two El Salvadorian citizens and driven through a police fence on the Honduran-Guatemalan border but got arrested soon after. A whole caravan of people is reported traveling through central America heading north hoping to get access into the United States.