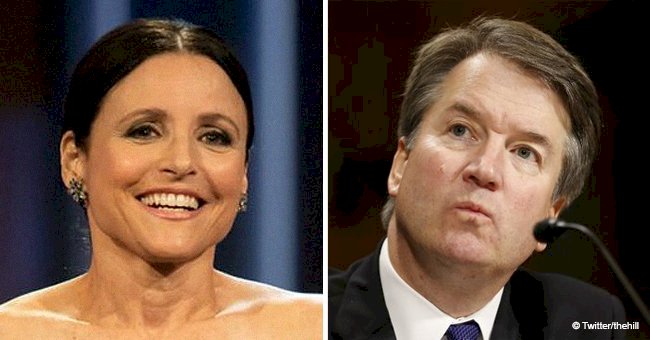 Julia Louis-Dreyfus blasts Brett Kavanaugh during her politically charged speech

The actress received the Mark Twain Prize for American Humor on Sunday. She took jabs at the new Supreme Court Justice with her endearing comedic flair.
Julia Louis-Dreyfus, best known for her worked on the show "F.R.I.E.N.D.S," spoke at the John F. Kennedy Center for the Performing Arts.
But when it came time to give her acceptance speech, the "Veep" actress dished it out towards Brett Kavanaugh. The latter was recently accused and cleared of sexual assault charges.
Follow us on Twitter for more @amomama.
The Huffington Post reported the speech."I attended Holton-Arms, a girls school in the Washington area," Louis-Dreyfus began.
Christine Blasey Ford attended the same school. Ford recently claimed Kavanaugh assaulted her at a party decades earlier.
Louis-Dreyfus continued:
"It has been in the news lately. Back in fourth grade, as a matter of fact, I was in a very serious Holton-Arms production of 'Serendipity.' You know it's funny with us Holton girls — I remember every detail of that play. I could swear to it under penalty of perjury. And yet, I don't remember who drove me to the show or who drove me home. Or if Squee or Tobin were there. Or if Brett put it on his weird wall calendar."
The 57-year-old was making reference to Ford's testimony before the Senate Judiciary Committee. The prosecutor pointed to her inability to remember details as raising "significant questions."
Stressful events are said to hinder the recollection of surrounding details. Ford had forgotten the location of the house party where the alleged assault took place. She also did not remember how she returned home that night.
Ford and Drey-Louis attended the school at the same time. The "New Adventures of Old Christine" actress was among 200 women who signed a letter in support of Ford.
The letter read:
"We believe Dr. Basley Ford and are grateful that she came forward to tell her story. It demands a thorough and independent investigation before the Senate can reasonably vote on Brett Kavanaugh's nomination to a lifetime seat on the nation's highest court. Dr. Basey Ford's experience is all too consistent with stories we heard and lived while attending Holton."
Louis-Dreyfus was the 21st recipient of the Mark Twain Award. Jerry Seinfeld, Tina Fey, Stephen Colbert, Bryan Cranston, Lisa Kudrow, Tony Hale, Kumail Nanijiani, Keegan-Michael Key, Ilana Glazer, Abbi Jacobson, and Jack Johnson were present to honor the actress.
The support was welcomed not only in recognition of her work. It also came after some serious challenges Louis-Dreyfus has had to overcome.
Louis-Dreyfus made her battle with cancer public earlier this year. She underwent treatment and surgery and appears to be doing well.
Additionally, she lost her half-sister in August 2018. Emma Louis-Dreyfus overdosed on cocaine and alcohol according to toxicology test results.
The women share the same father, billionaire William Louis-Dreyfus. Emma left behind a $23 million estate and had just invested $4.5 million in a marijuana production project.
Louis-Dreyfus has not commented on half-sister's death. But she certainly made clear her stance regarding the Kavanaugh situation.
She's not the only who has expressed their opinion on the controversial matter.
Last week, former President Jimmy Carter spoke to a college class about the topic. He described Kavanaugh as "temperamentally unfit to serve on the Supreme Court because of his outburst during the hearing."
Like many, Carter "saw him lose his cool." This set the tone for Carter's explanation of why Kavanaugh was still voted onto the legal body.
"Most of the American people were not in favor of his being on the Supreme Court. But he's there now because the Senate is quite subservient to Donald Trump and afraid of his displeasure," Carter said.
The 39th president was speaking to a Georgia Civil Rights Cold Cass Project class when he spoke out on the matter.
Please fill in your e-mail so we can share with you our top stories!