Dad takes photo of his little girl posing with a horse and bursts out laughing when he sees it
A father couldn't contain his laughter when her daughter took photos with a grand horse.
Everything was by the plan when this dad and his little girl decided to do a photograph with her next to a pair of Clydesdale horses.
However, exactly when the father snapped the shot, one of the reigned steeds completely photobombed it.
The image made its way to Facebook in 2016, which quickly became a viral sensation.
Follow us on our Twitter account, @amomama_usa, to learn more and scroll down to check out the photo below.
While enjoying a day out, this little lady and her family noticed the beautiful Clydesdale horses standing nearby.
The girl wanted a photo with one of these delicate animals.
Everything was set after managing to get both the young lady and the steeds pleasantly in the frame.
She grinned and posed flawlessly. But just when everything was perfect, one horse chose to get a bit comical.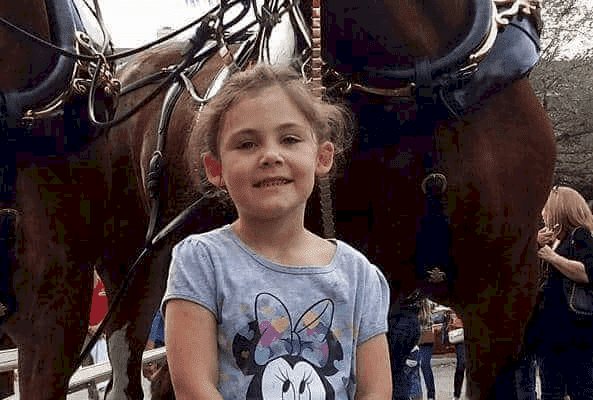 In the photo, the horse is seen making a funny face, showing his huge pearly white teeth behind her.
The hilarious photobomb picture has since taken the web by storm. It received some high praise from many people for making them laugh.
One Facebook user wrote, "Beg to differ, I have met full team twice and photographed & they are beautifully trained, happy in their work and I have dozens of examples of horses"smiling" as they also have a playful side. I played games with both my horses."
"Too cute! Great photo bomb! Such a cute fella! and little girl!" added another user.
"How cute is this photo lol I can see why the dad laughed," another user commented. "I'm still laughing. This is a family treasure picture. The little girl had a cute smile, but the animal had to get in on it too."
Though Clydesdale horses are known to be delicate, they also have a dynamic identity and a sharp mind, according to PetMD.