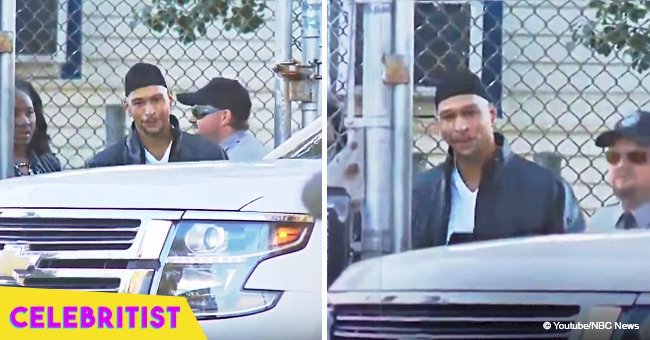 Ex-NFL player released after 19 years in prison for murder plot against girlfriend & unborn child
Rae Carruth, a former NFL player who was found guilty of plotting his pregnant girlfriend's death almost two decades ago, was released from prison yesterday. The unborn child Carruth tried to destroy back then is now a teenager, and despite his health condition, continues to thrive.
Carruth was filmed exiting the Sampson Correctional Institution in Clinton, North Carolina on Monday morning. A white Chevrolet Tahoe was there to pick him up and pulled away immediately Carruth got in.
The disgraced athlete, 44, spoke to CNN Affiliate WSOC before his release and said he's excited about regaining his freedom, adding:
"I'm nervous just about how I'll be received by the public. I still have to work. I still have to live. I have to exist out there and it just seems like there is so much hate and negativity toward me."
On November 16, 1999, the late Cherica Adams, then 24 years old and eight months pregnant, went on a movie date with Carruth. The couple left afterward in separate cars, and Carruth made sure to take the lead.
Suddenly, a car pulled up next to her, and the occupant fired shots at Cherica, hitting her four times. According to prosecutors, during that time, Carruth blocked Cherica's vehicle with his so the hired shooter could get her.
Cherica got away and managed to implicate Carruth in a 911 call. She went into a coma and died one month later, but doctors were able to save the child.
Unfortunately, that child was born with cerebral palsy and permanent brain damage as a result of the trauma experienced by his mother. The infant is now a teenage boy, Chancellor Lee Adams, who is being cared for by Cherica's mom, Saundra Adams.
Saundra spoke to The Charlotte Observer last year and called Chancellor her "miracle boy" while recalling everything doctors said he wouldn't do.
"The neurologist told me all of the 'nevers.' He's never going to walk. He's never going to talk. He won't be able to sit up or ever feed himself. He will never live a normal life. Because of my strong faith, I heard what they were saying. But I said: 'I know there's a miracle worker, and he is going to be my miracle boy.'"
Meanwhile, Carruth, a former Carolina Panther, has promised not to pursue a relationship with Chancellor any more. "I promise to leave them be, which I now see is in everyone's best interest," he wrote in a letter to The Charlotte Observer.
Carruth was convicted in 2001 of conspiracy to commit murder, discharging a firearm into occupied property and attempting to destroy an unborn child, CNN reports.
Please fill in your e-mail so we can share with you our top stories!