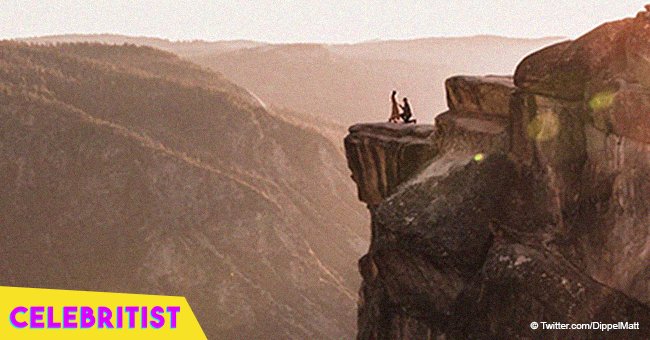 Stunning pic of a proposal in Yosemite goes viral, launching worldwide search for mystery couple
A photographer's stunning shot of a couple's proposal at Yosemite has gone viral, and now thousands of people are searching for the anonymous couple that was captured in the shot.
A truly breathtaking photo of a couple getting engaged at the tip of Yosemite has gone viral after the photographer captured the sweet event. Now, the internet has launched a worldwide search for the couple, wondering who they are.
The photographer was able to capture them mid-proposal while at US' Yosemite Park, and now, the search for the mystery couple continues.
Matthew Dippel is a photographer from Michigan who was touring the Yosemite National Park, which is famous for its cliffs and waterfalls. During his visit, his intention was to take photos from the "Taft Point" during sunset. However, what he witnessed was far more beautiful.
While taking photos with his professional camera, he noticed the couple having a romantic moment on a nearby cliff, both of them dressed in a suit and gown. After taking the wonderful photo, he rushed to Taft Point in order to show them his creation, but he was unable to find them due to the long queue to get up.
Instead, he launched a worldwide search to try and find the man and woman, asking for Twitter's help to locate them. Not only did the Tweet go viral with more than 338 thousand likes and 161 thousand comments, but people have started to talk about it so much that it has created quite the buzz.
"Twitter help, idk who these two are but I hope this finds them. I took this at Taft Point at Yosemite National Park, on October 6th, 2018."
However, despite all the attention it has brought in, Matthew updated his followers that as of October 19, they still have not found the couple and up until today, the search continues for the mystery couple.
Please fill in your e-mail so we can share with you our top stories!