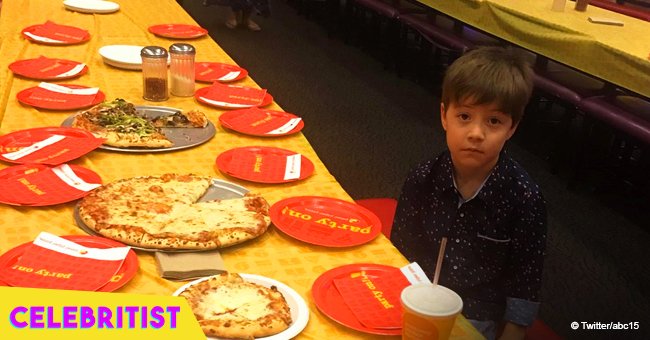 Birthday boy goes viral after no one shows up to his party
A mother was utterly heartbroken when they realized that none of her son's 32 classmates were going to his pizza party. Since posting a photo online, the young 6-year-old has since then gone viral.
Pizza should have been enough to entice people to head to a party, but the fact that no one showed up for this young boy's birthday after sending out 32 invitations to his classmates was just heartbreaking.
According to his mother, Sil Mazzini, Teddy's 6th birthday party at the Peter Piper Pizza restaurant in Tucson was supposed to be filled with dozens of girls and boys whom they expected to show up with their parents. While she did expect some people not to go in advance, she did not know that no one would end up showing up to celebrate with them.
As for the future, the distraught mom said that she won't be planning any birthday parties for the poor boy anytime soon, especially since this event has been heartbreaking not only for her but for him as well.
While the family got the sympathy of internet users, there were also some who questioned the way the mo embarrassed her child like that. For them, such a heartbreaking moment should not be further publicized as it would add to the trauma of the kid once he sees it on the internet.
Teddy's photo went viral after his mom showed it to a reporter who then shared it on Facebook. This caused netizens to greet the 6-year-old a very happy birthday, with different offers of gifts and experiences, such as getting a front row ticket to watch the Phoenix Suns against the Los Angeles Lakers in Talking Stick Resort Arena on Wednesday night.
Seeing the photo, the Phoenix Suns official Twitter page asked if he wanted to celebrate with thousands of people on Wednesday instead. The town's football club, the Phoenix Rising, also invited Teddy to their playoff game on Friday, where "7000 of his closest friends" will be joining their celebration.
It is unclear whether or not the invitations have reached Mazzini and Teddy, but nonetheless, the idea of having him celebrate with thousands of people would be a great way to make the boy feel loved and forget about the heartbreaking moment he had to experience on his birthday.
Please fill in your e-mail so we can share with you our top stories!