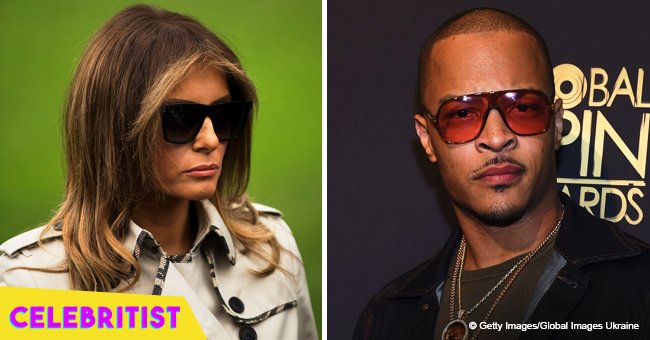 Melania Trump's spokeswoman calls for T.I. boycott over video featuring First Lady look-alike
In a promotional video that rapper T.I. released, a model who looked like Melania Trump appeared striping in the Oval Office, something that didn't please FLOTUS at all.
During the clip, the Canadian model named Melanie Marden was wearing a jacket that read: "I really don't care do u?" which was similar to the one that Melania wore during her visit to migrant children in Texas earlier this year.
Soon after the video hit the internet, FLOTUS' spokeswoman Stephanie Grisham shared a tweet about it wondering how come such thing was "acceptable." Later, she called for people to boycott T.I. for his disrespectful act.
DEGRADING MELANIA
Like it or not, she is the First Lady and this is the White House. It's disrespectful and disgusting to portray her this way simply because of politics. These kinds of vulgar attacks only further the divisiveness and bias in our country - it needs to stop," said Stephanie in a statement sent to Fox News.
According to her, the video degraded her as a person, which was a reason good enough to boycott the rapper. After that, the model revealed that she had been getting several threats.
SPEAKING ABOUT THE VIDEO
After admitting that she never had the intention of making a political statement out of the video, Melanie said that people have been telling her that they would hit her with their cars, with baseball bats, and wishing some other negative things.
The model said, however, that she saw the opportunity as a way to step out of her comfort zone by playing the First Lady naked in the global office, suggesting that it was nothing but a modeling gig.
T.I. TALKING ABOUT KANYE
Earlier this month, T.I. tweeted that he was not Kanye West and that he would not work with him anymore due to his outspoken support for President Donald Trump.
ANOTHER CONTROVERSY SURROUNDING MELANIA
Recently, Melania was involved in a different situation as she was labeled as "racists" by Nigerian feminist author Chimamanda Ngozi Adichie. During an interview with Esquire, she was asked whether or not she considered Melania was racist.
"Had you asked me this question yesterday, I would have said 'yes' and my evidence would be that she supported her husband when he was being incredibly racist about Barack Obama," said Chimamanda.
IS SHE RACIST?
The author was referring to the time when Donald asked former President Barack Obama to show his birth certificate to the world as he doubted that the former POTUS was born in the U.S.
Chimamanda said that it was definitely a racist remark and, since Melania supported Donald, she was a racist, too. Apart from that, the author addressed the way FLOTUS dressed for her recent visit to Africa.
Given the fact that Melania wore a pith helmet, Chimamanda said that she "sort of stepped out" of a colonial 1750 guidebook about how to be in Africa.
Please fill in your e-mail so we can share with you our top stories!