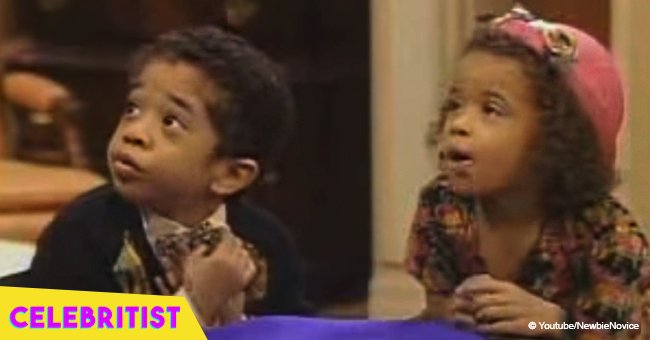 Remember this kid from the 'Cosby Show'? He is 31 now & flaunts his tattoos in shirtless photo
Gary LeRoi Gray is better known to many for his role as little Nelson Tibideaux, the son of Sondra Huxtable and Elvin Tibideaux on the sitcom "The Cosby Show." However, he's now a handsome 31-year-old who has taken on more serious roles through his career, and that is not shy to show off some skin in recent Instagram pics.
Gray knows what his female fans like to see and he's not shy about it. The actor, writer, and producer recently shared a series of shirtless pics on Instagram, showing off his toned body and tattoos as he donned only a pair of Calvin Klein boxers in one of the pics and pants in another.
"I know it's not Thursday, but I was feeling nostalgic about this shoot. @kiuiairica killed it. #photography #photoshoot #calvinklein #inmycalvins," he captioned the picture.
Fans took to the comment section to gush about Gray's attractiveness with flirty comments. "Thursday? If this is what you're offering, hell, every day can be Thursday," wrote one fan; another added, "Wow its been a long u look so much more grown since I last saw u," and a third one said, "You are so so cute and sexy."
A BIT OF HIS STORY
Gary has been working in Hollywood since he was five. He made appearances in series like "The Fresh Prince of Bel-Air," "Family Matters," "Living Single" and "The Weird Al Show." He's also a voice actor who gave life to several characters in animated series of the early 2000', like "Rocket Power," "Clifford the Big Red Dog," "The Fairly OddParents" and "Whatever Happened to Robot Jones?"
Despite growing up in the entertainment industry, Gray was able to have a normal upbringing and avoid the problems that other child stars tend to face when the pressure of fame becomes too much. He credits his mom for that, as he told Vibe on an interview a few years ago:
"I grew up in the south side of Chicago. I never really touched the Hollywood scene until very late in my life. With her, it never was about money. That trickled down to me. "
And continued:
"Where you have most child stars who are so in tune with how much money they are making and where that money is going, that's how you get a sixteen-year-old driving a Bentley and wrecking them and living on their own with their managers. Not to say my mom hid my money, but I didn't need that money at the time. Thus my upbringing was very normal."
Gray even transferred his talent behind the scenes, working as a writer, producer, and director in several projects, like the TV series "3 Year Plan," one of his most recent works, and the upcoming movie "Conundrum: Secrets Among Friends."
HIS GOALS IN THE INDUSTRY
Even though Gray tried to make the transition from acting to music, following the steps of Drake, people still prefer to see him on the screen instead of listening to his mixtapes.
Speaking about his craft and inspiration to appear on screen, Gray revealed that he wants people to feel something whenever they see his acting. "My goal is to just give that feeling to as many people as I can. Those goosebumps," he said. And continued:
"That moment in the movie where you just tense up, and that release you get when your favorite actor has a crazy, long drawn out monologue and it just hits home. Or a crying scene between two lovers on scene. Those moments, I know how they make me feel, and I know that if I can feel those feelings, then so can other people."
Is clear that Gray is passionate about his job, so we can't wait to see what else he has in store for the next year.
Please fill in your e-mail so we can share with you our top stories!