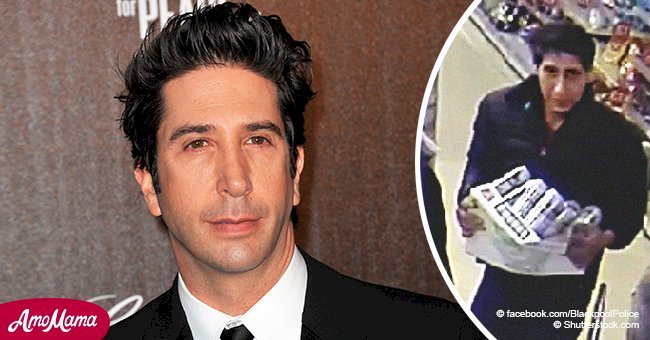 'Friends' star Ross responds to police investigating lookalike accused of theft
When Blackpool police posted the picture of a man wanted in connection with a theft from a Blackpool restaurant on September 20, a range of hilarious comments followed.
CCTV footage showed a man walking out of Mr. Basrai's restaurant on Talbot Road with a crate of beer, and allegedly also stole a jacket, wallet and mobile phone.
Granted, none of that is funny, however, the man captured in the still image is the spitting image of David Schwimmer, the adored Ross Geller we all know from the series 'Friends.'
Comments flooded in, replying to the original post by the police, quoting famous sayings by Schwimmer and other references on the series 'Friends.'
Schwimmer himself responded and wrote:
"Officers, I swear it wasn't me. As you can see, I was in New York. To the hardworking Blackpool Police, good luck with the investigation."
The police confirmed that Schwimmer was not in the UK at the time the crime got committed, and although some witty comments got posted others like Grace Higham reminded the 'Friends' fans that a real crime had been committed and said:
"He's a thief, and it's serious, but these comments are hilarious."
The original post by the police has gained over 166,000 comments, most of which refer to the show 'Friends.'
From Flushing, Queens this popular actor had his first experience with acting at age 10 after his lawyer parents moved to Los Angeles.
His passion was always acting and went on to earn a Bachelor of Arts degree in theater and speech after which he co-founded the Lookingglass Theatre Company. This year he appears in 5 episodes of the latest season of the popular comedy 'Will and Grace.'
They urge anyone with information regarding the identity or location of the real thief to contact Blackpool police via email 7798@lancashire.pnn.police.uk quoting log LC-20180920-0670.
Police matters are serious because they deal with crimes of various sorts, however, like with the David Schwimmer look-alike, more lighthearted situations do arise. Recently a hilarious scene unfolded as the police were called upon to remove a drunken man from a busy seafront boulevard in Russia.
The man was on the back of a donkey, wearing only a swimsuit and cap, fast asleep. When the police approached the donkey it moved away, eventually, the police were running after the donkey.
The man remained fast asleep throughout, oblivious to the surrounding happenings.
Laughter ensued from both onlookers and police. The video posted of the incident went viral amusing curious viewers.
Please fill in your e-mail so we can share with you our top stories!