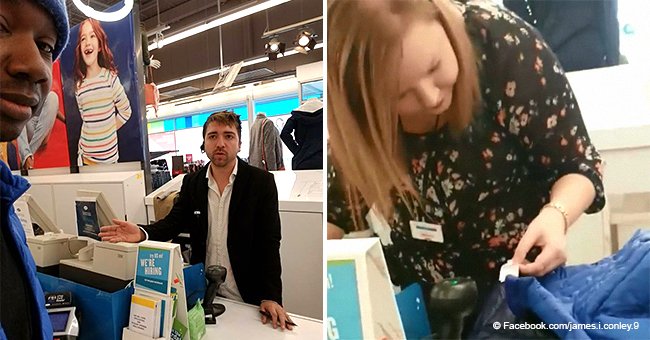 Black man got accused of stealing his own jacket while shopping in 'Old Navy' in viral video
A black man claims he was racially profiled by Old Navy staff who accused him of stealing his own jacket. His video of the incident proves he was wronged and the employees were fired following his complaint.
James Conley was a customer of an Old Navy store in West Des Moines who was treated unfairly by its staff. Wearing the store's bubble jacket he owned, he was later asked by the cashier if he intended to pay for it.
Initially amused by the cashier's question, Conley explained that he arrived with his jacket which was a Christmas gift to him. The manager who stepped in insisted to scan the apparel saying it was standard policy to do so for customers wearing their clothing inside the store. It was to prove that the item was previously purchased.
At that point, Conley realized he was being stereotyped. He knew the policy didn't hold true for others. He's never seen customers' Old Navy clothes being scanned before. But he allowed the cashier to scan his jacket to prove he was right. However, upon scanning, the manager still asked him to pay for it. Conley refused to pay so he requested to see the surveillance footage to show proof that he was racially profiled. The district manager who viewed it discovered Conley was telling the truth.
To make matters worse, he never received an apology from the employees who wronged him. The district manager never came back after discovering he was right.
Conley recorded parts of the incident on video and posted it online to express his dismay. In four days, his post where he detailed the events that transpired earned over 140,000 shares.
The store shut down for a day after the story went viral. Old Navy later posted a statement on Facebook revealing they reached out to Conley to apologize. They also expressed their desire to conduct an investigation of the incident. The three employees involved were fired after.
Conley intended to file a lawsuit to claim for civil damages. He says it was a blessing that his story went viral. He adds,
"Whatever color your skin, you shouldn't have to deal with that while you're shopping."
Conley's story is proof that discrimination still exists to this day. Color plays a huge role in shaping people's perceptions. A black billionaire experienced this firsthand when he was refused entry at a hotel because he didn't want to remove his sunglasses upon checking in.
Bob Johnson, the co-founder of Black Entertainment Television (BET) was asked to remove his sunglasses for identification upon checking in at a luxury hotel in Palm Beach. When he refused, the personnel didn't allow him to proceed. Johnson, who is the first black billionaire in the US believes he was racially profiled. The hotel insisted that what he was asked to do was company policy. Johnson wouldn't hear of it so he left the hotel. It's quite certain he was never coming back.
Please fill in your e-mail so we can share with you our top stories!