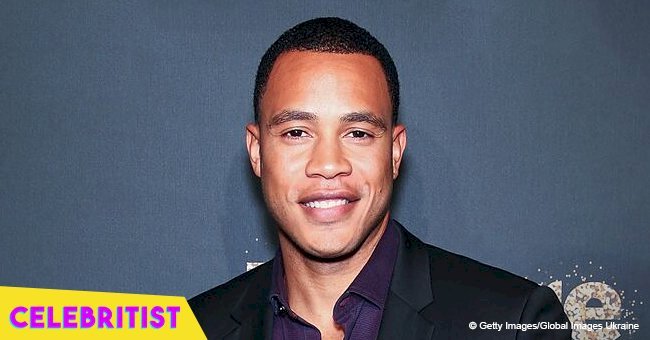 'Empire' star Trai Byers embraces wife on their 'awesome' date night in recent photo

Trai Byers, also known as Andre Lyon on "Empire," took to Instagram to share a slideshow of his "awesome" date night next to his wife, Grace Byers, who also works on the show.
In the first image, Trai, wearing blue jeans and a long-sleeved and light blue shirt, appeared embracing Grace, who put on blue jeans and a black blouse. The couple was between two "monsters" as they visited the Horror Nights and the Universal Studios Hollywood.
Grace's face showed that she was both scared and having fun. For the second photo, Trai posed as if he was a boxer in front of a monster very similar to the "Demogorgons" that appear on the Netflix hit series "Stranger Things."
"STRANGER THINGS"-THEMED
The third and final picture portrayed the couple sitting on a couch. In the wall behind them, there was an alphabet painted with Christmas lights above each letter, copying one of the most memorable sets of "Stranger Things."
PEOPLE'S REACTION
For the caption, the actor wrote that the tradition continued and pointed out that he had an "awesome time." As soon as he uploaded that slideshow, his followers took to the comment section to share their thoughts.
Most of them praised the couple saying that they look beautiful together and even labeled them as "perfection." Others admitted that the last photo was the best one.
COMMEMORATING THEIR ANNIVERSARY
Trai and Grace have been married for two years already and, on their second marriage anniversary, the actor took to Instagram to commemorate their union, as well as to reveal some private details of how he felt when they met each other.
"I remember being caught in your eyes, and deciding I would never leave. I remember watching you dance the Bachata, and thinking I want to be the man you dance with. I remember sitting next to you at the 'Selma' premiere, I was so nervous and I wanted to impress you," wrote the actor.
As Essence reported, they met each other on the set of "Empire" and, after becoming very good friends, they started dating. One thing led to another, and they are in a loving and beautiful relationship nowadays.
HONORING HER BIRTHDAY
It is not the first time that Trai shares photos of Grace on his social media, though. Earlier this year, he paid tribute to his wife on her birthday with a video of them singing in duet followed by a touching and heart melting message.
"My Queen, I give thanks for the day you were born. On that day I received a gift that I would have to wait for, grow for, mature for... you were so worth the wait! I've been many places in my life, seen many things, but nothing compares to the smile on your face when you wake in the morning. You are IT for me, and God is indeed so good to bless me with your hand to hold," wrote the actor.
He continued:
"Thank you for saying yes to me. Thank you for putting up with me. Thank you for standing your ground with me. You teach me so much about true manhood, you require no less, and you deserve no less. I love you honey bear, until the day I die and into eternity. I'm rooting for you on this journey, no matter what comes or goes. And I will always believe in and for your BEST! I pray your years keep getting better, and that your gifts match your efforts, my 'more-than-enough' baby! Happy Birthday, my forever love!"
Please fill in your e-mail so we can share with you our top stories!