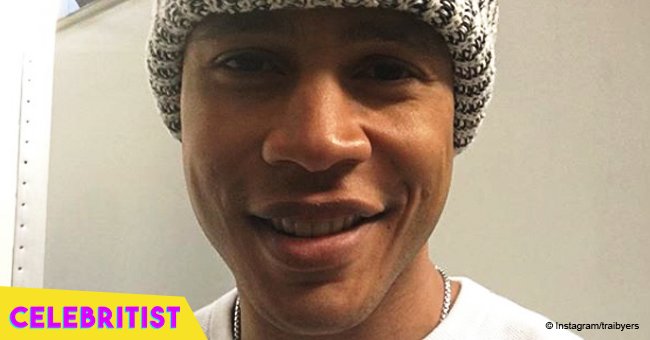 'Empire's Trai Byers shares sweet video of his 'Queen' singing in floral dress on her birthday

Trai Byers steals hearts once again. He pays tribute to his wife on her birthday with a touching message accompanied by a video of them singing in duet.
'Empire'star Trai Byers is a man in love in his recent post where he pens a heartfelt message for his co-star and wife Grace Gealey. The 35-year-old also shared a video of his wife singing during a romantic lakeside dinner celebrating her birthday as he manned the camera and joined her in a duet at one point.
Grace was dressed in a floral haltered dress with a deep cleavage as she belted out lyrics while holding on to a rose no doubt given by her loving husband. Towards the end of the clip, the camera pans to reveal a whole bouquet sitting on the table along with burning firewood keeping them warm as they sat by a beautiful lake. Grace looked at her husband and uttered "I love you" at the end of her number, clearly happy where she was.
As a tribute to his wife he refers to as his "Queen," Trai penned a sweet caption for the video. He began,
"My Queen,I give thanks for the day you were born. On that day I received a gift that I would have to wait for, grow for, mature for... you were so worth the wait! I've been many places in my life, seen many things, but nothing compares to the smile on your face when you wake in the morning. You are IT for me, and God is indeed so good to bless me with your hand to hold."
And continued,
"Thank you for saying yes to me. Thank you for putting up with me. Thank you for standing your ground with me. You teach me so much about true manhood, you require no less, and you deserve no less. I love you honey bear, until the day I die and into eternity. I'm rooting for you on this journey, no matter what comes or goes. And I will always believe in and for your BEST! I pray your years keep getting better, and that your gifts match your efforts, my "more-than-enough" baby! Happy Birthday, my forever love!
Here's that loving post.
The couple now married for two years met on the set of their television show 'Empire.' Celebrating their 2nd anniversary in April, Trai recalled moments when he knew Grace was the one as he posted a photo of the two of them in the Cayman Islands (where they wed) to mark their 2-year milestone.
"I remember being caught in your eyes, and deciding I would never leave. I remember watching you dance the Bachata, and thinking I want to be the man you dance with. I remember sitting next to you at the "Selma" premiere, I was so nervous and I wanted to impress you. I remember when you looked me in the eyes and told me what I'd waited my whole life to hear, "I'm ready". God remains the tether that binds us together. Two years feels like two seconds for me with you. I'm caught in your love, and I'll never, ever leave. Happy Anniversary My Blessed Queen. I love you now and forever!"
More of Trai and Grace's love affair are witnessed by their fans who see their endearing posts on their Instagram accounts. Every chance they get, they dedicate thoughtful messages to each other accompanied by sweet captured moments. Here are a few of those to inspire us all.
Please fill in your e-mail so we can share with you our top stories!