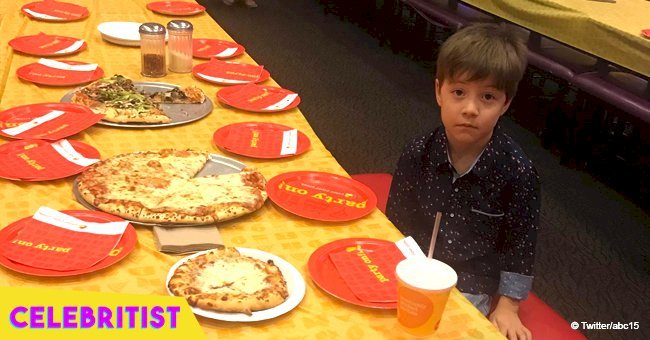 Community rallies to give 6-year-old a birthday to remember after no one came to his party
One six-year-old boy went from being unhappy to being overjoyed after his community came together to throw him a second birthday party.
Teddy Bollinger's sixth birthday celebration turned out to be a sad event after his 32 classmates failed to show up. After his story went viral, Teddy received an outpouring of love on social media the Arizona community went a step further to give him the best do-over ever!
Teddy's mother, Silvina Mazzini, told News 4 Tucson that her son declined a trip to Legoland or Disneyland to have a party at Peter Piper Pizza with his friends. Being the first birthday party her son would have, Silvina granted his wish and went about planning the party. Teddy's birthday was initially on October 3, but they had to plan around his dad's schedule.
Silvina said:
"We don't have family (in Tucson). His dad is from Alaska and his family is there. My family is in Argentina."
The mom said she gave out written invitations to Teddy's teacher at Basis Tucson Primary, and the teacher passed it out to the students.
Silvina said she got replies from most of the classmates that they'd be at her son's party. She even confirmed from some of the parents when they met at a Halloween party organized by the school.
"They told me they were going to come," said Silvina. "I got text messages saying they were going to come too."
Silvina went ahead to prepare 30 goody bags since only two classmates RSVPed no.
Sadly, when Teddy's birthday came around, he was alone all day. Silvina said her heart was broken for her son who was looking forward to playing games and just having fun with his friends.
She posted a photo of Teddy all alone at the long table, surrounded by large pizzas that were meant for the party. The heartbreaking image went viral in no time, and the reaction that followed is something mother and son never expected.
Community members sent birthday wishes in their numbers, and local organizations threw him parties. Teddy was also specially invited by the Phoenix Suns to watch the basketball game against the Los Angeles Lakers this past Wednesday.
An overwhelmed Silvina thanked the community for its support, and so did Teddy. The boy also expressed his appreciation in a Facebook video where he said:
"Thank you all for the birthday wishes. Big kiss."
Silvina added:
"We definitely don't want anything. No money or anything crazy like that. We are happy for all the support and overwhelmed from the support of the community. There are a lot of nice people out there."
COMMUNITY OF LOVE
Like Teddy, Air Force veteran Ron Hyde felt the overwhelming love of community. Having cancer had left him flat broke and stripped his apartment of everything else, except for an old mattress.
When Hyde made the trip to get a $25 armchair, he had no idea he would meet a Good Samaritan and that in a few days' time, he would have a fully furnished home.
Read the rest of Hyde's story and watch as he's moved to tears here.
Please fill in your e-mail so we can share with you our top stories!