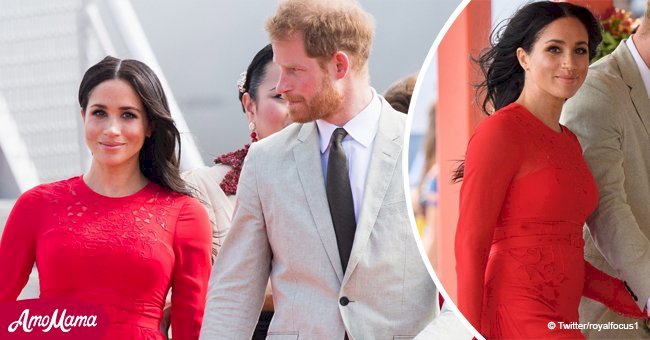 Meghan Markle suffers a wardrobe malfunction with a visible swing tag hanging off her hem
Meghan Markle's wardrobe-changing skills hit a snag when she made a rare fashion faux pax. The slight error did not detract from her fashion choice, however.
Markle, 37, opted for a fitted red dress from Self Portrait as she entered Tonga. Prince Harry, 34, remained in a light brown suit he had worn earlier that day.
According to People, they had just left Fiji on a 90-minute flight. The two walked hand-in-hand as they were welcomed by Her Royal Highness The Princess Angelika Latufulpeka at the Fua-amotu Airport.
Follow us on Twitter for more @amomama.
As the pair walked, it was clear that Markle had forgotten one thing in preparing herself for the arrival. The hang-tag of her dress was quite visibly showing at the hem.
Amidst the sounds of the welcome songs, Markle's red dress looked stunning. It matched the Tongan flag and was suitably paired with some black pumps and a black clutch.
The mistake is one of very few from the Duchess of Sussex since becoming a royal. Several locals who came out to see the royal pair were unbothered by it, of course.
There were several local children waving flags in the streets. Locals in traditional wear put on short musical performances. Some people had decorated their houses with balloons and flags.
The previous day, Markle was in Fiji wearing in a more casual dress. The flower pattern of her dress was complimented by some flowers she put in her hair.
In Tonga, the royal couple will make an appearance at the Consular House for a reception dinner.
On Friday, the two are expected to attend a cultural exhibit, visit a school, interact with traders, and go to Tupou College. Then, the pair will return to Sydney and attend the closing ceremony of the Invictus Games before traveling to New Zealand.
Markle's slight faux pas comes after a female empowerment speech given by the Duchess. On Wednesday, she spoke at a college in Fiji about the importance of female education.
"Everyone should be afforded the opportunity to receive the education they want, but more importantly the education they have the right to receive."
Unfortunately, education doesn't stop anyone from making small blunders. But that really shouldn't matter because we all make mistakes.
Please fill in your e-mail so we can share with you our top stories!