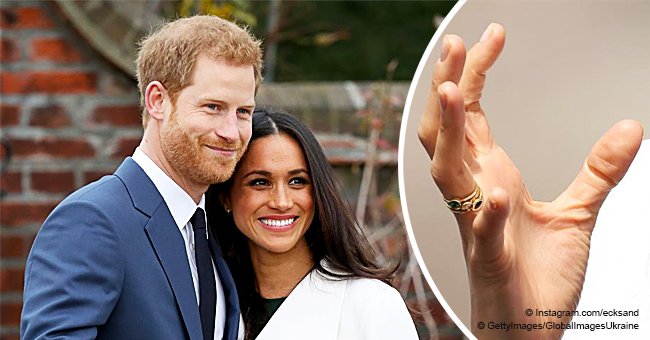 Eagle-eyed fan reveals Meghan's possible due date after spotting a birthstone in Duchess' ring

A tiny detail may have given away the secret of Duchess Meghan's due date.
Has Duchess Meghan inadvertently given away her secret?
Devoted Royal Family fans eager to learn every detail of the Duchess' pregnancy believe they have deciphered a hidden message, and posted their supposition on Instagram/@DuchyofSuccess on October 25, 2018.
Even though Kensington Palace vaguely alluded to the Sussex baby's arrival "in the Spring," fans are keen to narrow down the due date for the newest Prince or Princess of the House of Windsor.
CAN DUCHESS MEGHAN'S RING HOLD THE KEY TO THE MYSTERY?
Fans noticed that the Duchess was wearing a new stackable diamond ring between an emerald and a sapphire ring.
Duchess Meghan wore the three rings at Invictus Games event, and fans believe the green and blue stones represent hers and Harry's birthstones.
THE LANGUAGE OF BIRTHSTONES DECIPHERED
Duchess Meghan's birthday is in August and is represented by peridot, a green stone similar to the emerald; and Prince Harry's September birthday is represented by a blue sapphire.
AND BABY MAKES THREE
After the announcement of the pregnancy, Duchess Meghan started wearing a third ring between the emerald and the sapphire: a diamond. The diamond in the April birthstone and speculation has now risen that that is when baby Sussex will be born.
AUSTRALIAN SINGER ADDED FUEL TO THE FIRE
A left-hand confirmation by Australian singer-songwriter Missy Higgins has the grapevine humming.
"What an honour to meet the beautiful Duchess today! She was such a sweetheart. I said I felt sorry for her having to do all these meet-and-greets while 4 months pregnant! What a trooper."
This statement has inflamed fans, who are now certain that the future Royal will indeed be born in April.
BACK IN THE UK, THE FOCUS IS ON PDA
While the world is humming and ahhing over the adorable Sussex's 'honeymoon' tour Down Under, Brits are fighting it out over the couples drastic break with tradition in flaunting what they call 'PDA' or Public Displays of Affection.
Any Royal watcher worth their salt will know that the cool calm and collected Brits treasure a stiff upper lip, and are not likely to use it for kissing or snogging.
Royals are expected to keep their cool and their distance in public, so no holding hands, or kissing or hugging - and God forbid adoring glances...
The "This Morning" show fans were witnesses to a heated debate discussing exactly that: The propriety of Duchess Meghan's adoring gaze when she looks on her Prince.
Eamonn Holmes and Ruth Langsford took part in a debate about Prince Harry and Duchess Meghan's PDA.
Viewers' responses were mixed, with some enthusiastically embracing the Dukes of Sussex's honeymoon bliss, while other disparaged the PDA as "unseemly" or "unprofessional."
Hopefully, the happy couple will stay as sweet and in love as they are for many years to come and delight the world with their "unseemly" but adorable PDA.
Please fill in your e-mail so we can share with you our top stories!