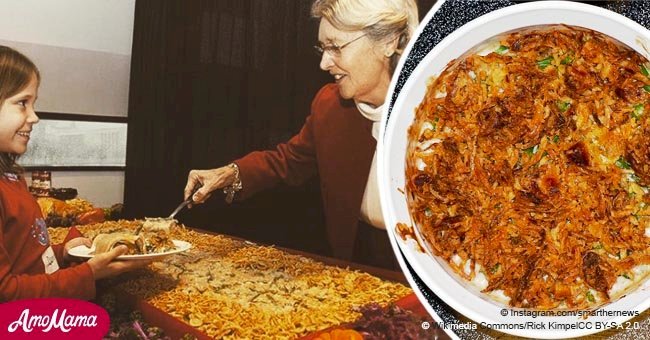 Woman who created green bean casserole dies at 92
Dorcas Reilly, the legend behind the Thanksgiving staple, the green bean casserole, died of Alzheimer's disease on October 15, 2018, at the age of 92.
Reilly's legendary recipe came out of the kitchen of Campbell Soup in 1955 when she was a kitchen supervisor having to put a dish together for an Associated Press feature.
Her recipe would become the most popular ever to come out of its corporate kitchen in Camden with the original recipe card donated to the National Inventors Hall of Fame in 2002.
The recipe marked its 50th anniversary in 2005 and during an interview, Reilly said she had no recollection of being involved in the creation of the dish as it was among hundreds of recipes created during her time at Campbell Soup.
She worked for Campbell Soup on and off between the late 1940s and 1988 and then retired as manager of the kitchen.
Her recipe is still featured on soup-can labels and commercials and has been said to be easy enough for even the worst of cooks to prepare.
After her death, Campbell Soup issued a statement and said:
"Dorcas was an incredible woman, whose legacy will live on for years to come. Her Campbell colleagues and all those who were impacted by her creativity and generous spirit will miss her."
Dorcas Reilly is survived by her husband Thomas, 59, their daughter and son. On October 27, a celebration of Reilly's life will be held at Haddonfield First Presbyterian Church, 20 E, Kings Highway, Haddonfield, with the visitation from 10 am to 10:45 am, followed by a service at 11 am.
Her legendary green bean casserole recipe is as follows:
2 cans of drained, cut green beans
1 can of Campbells® Condensed Cream of Mushroom Soup, (50 oz can)
1 tsp. Ground black pepper
1 can of French fried onions (24oz can)
Drain the beans, then combine soup, milk, and pepper and stir in green beans. When that is done add half of the onions and pour into a baking pan.
Leave it uncovered and back in a conventional oven at 350 degrees for 1 hour or until hot.
The remaining half of the onions go on top and gets baked for an additional 5 minutes.
While on the topic of great food, recent rumors that Food Network 'Pioneer Woman', Ree Drummond is leaving the network got nipped in the bud as Ree set the records straight on a blog post on her website. She referred to it as a 'wacky rumor' and has no plans on leaving the Food Network to sell facial creams.
Ree went on to ask fans to refrain from buying the facial cream and said:
"The source of the rumor is an unscrupulous company trying to trick people into buying [...] facial cream. I have nothing to do with this facial cream (please don't buy it!) You want facial cream? Head to Walmart, Ulta, Sephora, or a department store. Don't head to Pioneer Woman. I get my facial cream at [...] department stores!"
Her fans can look forward to a great line up this fall with new episodes set for release every weekend.
Please fill in your e-mail so we can share with you our top stories!