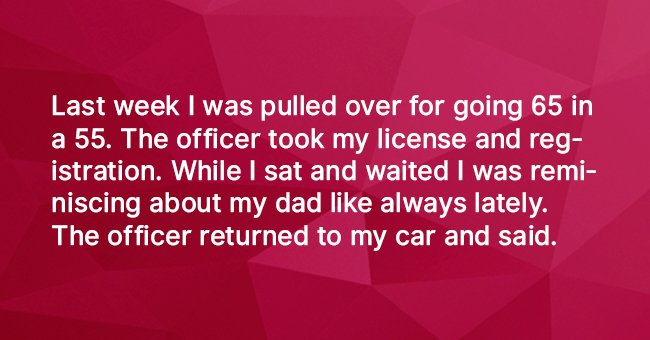 Woman was pulled over for speeding
A St. Clair County, Michigan policeman showed a great heart behind the uniform in an act of kindness towards a stranger when she most needed it, and she wanted everybody to know about it.
A woman named Gina Penny-Headen was asked to pull over by a law enforcement officer for driving over the speed limit. She was going through a very difficult moment and was distracted as she struggled to cope with her feelings.
She was lucky enough to run into an officer sensitive enough to feel empathy and to offer her the support and understanding that she needed to keep going. But as Viral Hatch reported, the kindness of this lawman wasn't limited to that.
The officer asked the woman for her license and registration. Then he went back to his squad car to take a look at her documents. Meanwhile, all that Penny-Headen could do was think about her father, as she always did at that time.
Read more on our Twitter account @amomama_usa
When officer Dan Hill, returned to the woman's car, he told her that it was her lucky day, since he noticed the two shared the same day and year of birth, so he decided to let her go after advising her to slow down and wishing her a good day.
"I smiled and said thank you. He walked away and I broke down and started crying, thinking he was back in his car,"
-Gina Penny-Headen, Love What Matters, December 16, 2015.
Actually, the policeman was still near and couldn't help but notice this, so he tapped on the window to ask her if she was all right. She revealed to him that she was having a hard time dealing with the recent death of her beloved father.
The concerned officer talked to the afflicted woman for a minute to comfort her and calm her, asking her to breathe. Then he escorted her back into traffic.
Weeks after this encounter, Penny-Headen was shocked by what she found in her mailbox. She received a beautiful card signed by the kind policeman who was so supportive on that day, and this is what he wrote:
"My condolence on the loss of your father. I'm sure he was a great man who loved his family. I pray that your tears of sadness become tears of joy in remembering his legacy."
"He will wipe away every tear from their eyes, and death shall be no more. Neither shall there be mourning, nor crying, nor pain anymore; for the former things have passed away," he added, quoting the Bible (Revelation 21:4)
After Penny-Headen took to Facebook to tell the heartwarming exchange she had with Deputy Hill, her story was shared by Love What Matters in the social network, with the post receiving 19.000 reactions and been shared more than 3.000 times.
"Thank you for sharing this. Everyone, in this rat race, in this beautiful place we call earth, is going through something. Thank you for reminding me to be kind in times when I want to rush and push through situations and get things done because my life is busy," wrote social media user Jenn Leggett.
"Wow that's so nice of him, this world needs more people like him! Sorry about your dad, my dad also passed away, almost 8 years ago and it still hurts like it was just yesterday," added Sonja du Plessis.
In a time when police brutality and racial tensions have seriously undermined the image of law enforcer officers in the US, it is important to remember that many of these men of service are committed to protecting others and not the opposite.
Back in 2016, Lieutenant Tim McMillan was heartbroken when he saw a black teenager's reaction when the officer pulled him over for text driving, as the young man was absolutely frightened to be alone with this man uniformed man.
McMillan had to reassure this teen more than once that he wasn't a threat to his life, and he didn't even give him a ticket, as he originally had intended to, to show him his good will.
Touched by this, McMillan took to Facebook as soon as he got home to share this eye-opening experience with as many people as possible, in a post that received more than 15.000 reactions and shared about 6.000 times.
Please fill in your e-mail so we can share with you our top stories!