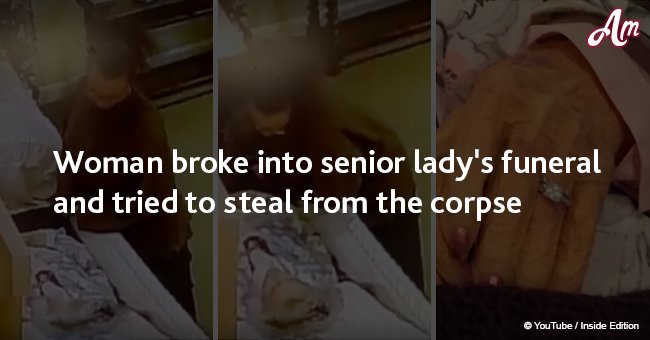 Woman broke into senior lady's funeral and tried to steal from the corpse

The ambition of a woman surprised several YouTube users, who saw how she stole the wedding ring from an old woman who was lying in a coffin.
The incident occurred at the Sunset Memorial Gardens and Funeral Home located in Odessa, Texas.
The images of the robbery were captured by a security camera located in the room where the visitation was made to the old woman, and when they saw the woman's crime, they decided to upload the footage to YouTube.
The images show the thief approaching the corpse of 88-year-old Lois Hicks and simulating moments of sadness when she was actually trying to look at her hands.
After several seconds, the woman achieves her mission and leaves. Read more on our Twitter account @amomama_usa
"It's just heartbreaking," said the daughter of the deceased woman, Vel McKee, indicating that she does not understand the desire of the unknown woman to steal a ring that is worth only $ 10.
Thousands of users in the social media have expressed their indignation after they saw the images of the YouTube video and carried out a campaign to find the whereabouts of the "defiler".
This seemed to work because the authorities managed to identify and capture the thief.
This would not be the first time that the woman incurs in acts of this type. Authorities identified her as Kalynn Homfeld, 41, who already had a theft record.
The defendant was already taken into custody and is facing two years in prison. This story can only be described as karma at its best.
In another outrageous recent case, the surveillance cameras caught a worker of a famous food company stealing and taking advantage of an old man at his supply store. The moment was recorded on video.
The clip began circulating on the web and people observed how an employee of the largest bakery company in Mexico City, Bimbo, steals a product from the humble supply of an old man.
Please fill in your e-mail so we can share with you our top stories!