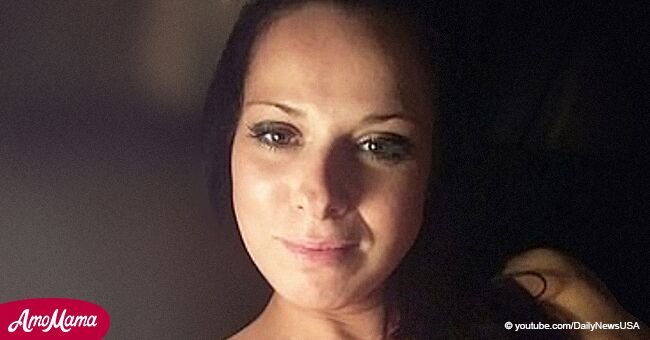 Pregnant mom-of-three accidentally kills herself after telling boyfriend: 'love you always'
While her boyfriend was away at work, this expecting woman and her man exchanged loving messages as the two were excited about the upcoming baby, but out of the blue tragedy struck.
35-year-old mother-of-three Kimberley Need, from Great Manchester, UK, texted a beautiful message to her boyfriend Ben Banham without imagining it was going to be the last she ever wrote him, as Daily Mail reported.
According to the tests performed by the local authorities, Need had been inhaling butane gas from a can for a "high" unintentionally taking her own life. Read more on our Twitter account @amomama_usa
"Love you always my sexy man," were her unplanned final message to Banham, who came home from his job to make a devastating discovery.
Banham arrived at the Oldham residence and knocked at the door many times, but after hearing no answer and since Need failed to open the door for him, he got worried and called a locksmith to gain access to the property.
Once inside the house, Banham rushed to look for Need and his worst fears turned into a reality when he found her lifeless body.
After the reports from the coroner showed that Need had been sniffing lighter fluid, which lead to her death, her past suicidal tendencies came to mind to everybody close to her, but the unfortunate event was ruled an accident.
Although she was known to suffer from post-natal depression following each of her three first pregnancies with her former partner between 2001 and 2011 and she even tried to kill herself with pills in 2016, she seemed to be fine recently.
"She was depressed after her last relationship but she was not depressed at the time of her death and she was in a good place that day […] She was fine and laughing. She texted me at 5:30 saying "love you always my sexy man". I just thought everything was going well."
-Ben Banham, Daily Mail, October 23, 2018.
"I am really shocked about what happened. I saw her the day she died. She seemed happy. She was waiting at the bus station to meet me for a coffee. My niece was with me and she spoke to her and was very happy," said Need's mother.
"She was due for an antenatal clinic appointment on Friday. I didn't think she intended to take her own life," added the heartbroken woman.
While it later surfaced that Need had admitted to his sister when she was 12 that she used to use lighter gas as a recreational drug, it was determined that she didn't abuse the substance at the time of her death, and a pathologist cited the cause of her passing as "sudden death syndrome" from inhaling butane and propane gas.
As unbelievable and scary as it might sound, gases we are so familiar with and that are used in a daily basis in most households are known to be silent killers if we misuse them or are inadvertently leaking.
Even if she eventually found out about it and could save her life, 41-year-old Kathi Wilson had to spend 10 years battling a mysterious illness which cause was impossible to detect for many doctors she visited because of carbon monoxide.
After many health specialists failed to find the reason for Wilson's deteriorating condition for a full decade, it took a couple of construction workers for the truth to be unveiled.
Accidental overdoses are also more common than what one might think. The omnipresence of painkillers and the recklessness of many users that self-medicate has taken many lives.
Dona Spiby lost her life at 42 after taking four different prescription medications to try to calm a severe back pain. She was found unresponsive in the couch and high levels of tramadol, diazepam and morphine were detected in her blood.
Please fill in your e-mail so we can share with you our top stories!