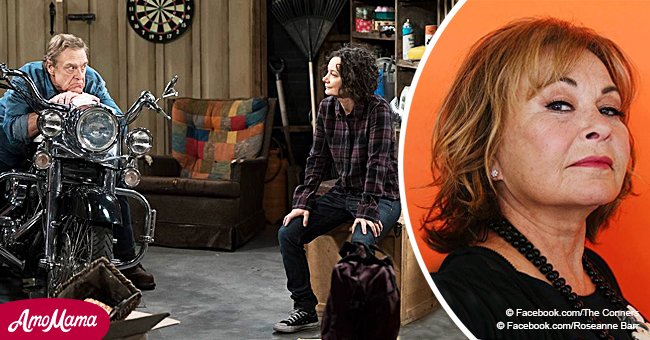 'The Conners' remember the late Roseanne Conner in a tender moment between David and Darlene

Roseanne Conner's demise is central to the new series' plot and development.
The ABC series "The Conners" was created after the successful reboot of the 90s sitcom "Roseanne" was canceled by the network, as reported by ABC GO.
ABC removed the series from their lineup after the series' star Roseanne Barr posted racist remarks on Twitter. The network later approved a spinoff of "Roseanne" which included the entire staff and crew - excepting Barr.
"The Conners" depicts the struggles of the family to carry on after the central character of the original series, Roseanne Conner, dies.
"It's so strange being in this house without your mom. When you and I were having problems she'd always take me aside and say 'David, I can't understand you when you're crying.'"
ROSEANNE CONNER'S DEATH IS A KEY THEME IN THE SPINOFF SERIES
In the new series, Roseanne's children and husband struggle to come to terms with her death. The Conner's matriarch is dead of an opiate overdose as a result of her hidden addiction to prescription painkillers.
The series' screenwriters were praised for highlighting a current pandemic of prescription drugs addiction that is afflicting millions of American homes.
A THEME THAT MIRRORS THE REALITY OF MANY HOMES
Dealing with the reality of addiction in a loved one, and the grief at her loss is being expressed poignantly by the characters in the show, in their time-honored comedic tradition. David, Roseanne's son in law talks about missing her, and his estranged wife Darlene responds:
"You were the daughter she always wanted."
PRODUCERS PROMISE THAT ROSEANNE CONNER'S DEATH WILL NOT BE FORGOTTEN
The show's producers have promised fans that Roseanne Connor may be gone, but she will not be forgotten; to which the disgruntled Barr declared publicly:
"I AIN'T DEAD BITCHES!!!!!"
ROSEANNE BARR RESPONDED TO THE NEW SERIES
Barr issued a formal statement wishing her former colleagues well in their new endeavor but regretting that ABC had "killed off" her character. She characterized the announced manner of Roseanne's death as morbid and inappropriate for a lighthearted family show.
Read more on Twitter Amomama.USA.
DAVID AND DARLENE COME TO TERMS WITH THEIR LOSS
Johnny Galecki, who played Darlene's husband on "Roseanne" made his first appearance on the show, and his character, David, brought in some conflict in the shape of a new girlfriend.
Darlene and David are separated, but neither has moved on from the marriage, and his girlfriend is the first sign that he has had closure.
David's new girlfriend and "soulmate," Blue, is played by Juliette Lewis, 45, who is well known for her portrayal of off-beat characters.
Lewis is a welcome and massively talented addition to the show, and she will be playing off Sara Gilbert who has been part of the cast since the first episode of the original series, back in the 90s. Lewis was ecstatic about being part of the show and said:
"I could not believe how homey it felt on set and just comfortable and I couldn't believe they asked me to be a part of it."
Fans and critics are raving about the spin-off and looking forward to a long and successful run of "The Conners"
Please fill in your e-mail so we can share with you our top stories!