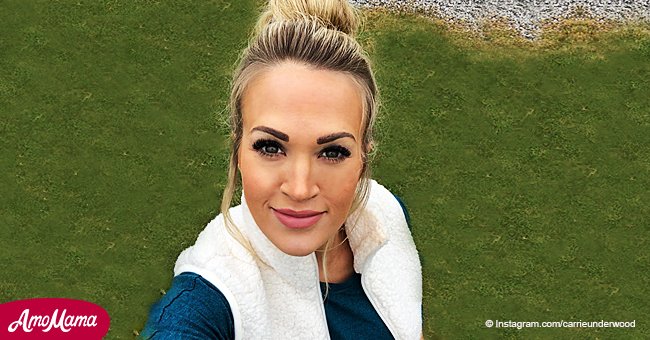 Carrie Underwood is shamed by fans after posting a 'soccer mom' photo
Carrie Underwood was attacked by fans after she posted a photograph taken at her son's soccer game.
Country star Carrie Underwood is being targeted by fans for something as simple as how she looked when she attended her son's soccer game.
The pregnant singer shared her excitement with her followers on social media by posting a selfie on Instagram/carrieunderwood on October 20, 2018.
The public's reaction to her photo was vicious and totally unexpected.
"Officially a soccer mom this morning! It's chilly out but I'm staying warm rocking some [Calia by Carrie]...the kids played a good game! Isaiah scored two goals for his team...and one for the other team. Hey, a goal's a goal!"
Carrie Underwood, Instagram/ carrieunderwood, October 20, 2018.
FOLOWERS LASHED OUT AT UNDERWOOD
Underwood's followers lashed out viciously, telling her her appearance was "inappropriate" for the occasion.
The objection was raised by Underwood wearing makeup, which is apparently a violation of the "unspoken rules" of soccer moms. One comment described her as wearing "a crap ton of makeup."
"SHOW UP LIKE MOST SOCCER MOMS, MESSY HAIR, DON'T CARE, NO MAKEUP"
While many were critical of the country stars glamorous look, many more backed her up, commenting that they themselves wore makeup. The consensus being, that it was a question of personal choice, not a "rule."
"IGNORE THE NEGATIVE COMMENTS. ENJOY WATCHING YOUR SON PLAY SOCCER. THAT'S WHAT IS IMPORTANT."
The fans who supported Underwood praised her for her support of her son's interest in Soccer and upbraided the "mom-shamers" for their vicious attack on the pregnant mom as "unnecessary and cruel."
Read more on Twitter Amomama.USA.
UNDERWOOD IS EXPECTING A SECOND BABY
Even as she stood on the sidelines cheering Isaiah and looking glamorous, Underwood was sporting a cute baby bump. She and her husband Mike Fisher are expecting their second child in August 2019.
A SIBLING FOR ISAIAH
Underwood revealed that she had had three miscarriages prior to this pregnancy and that the new pregnancy is demanding a lot from her physically.
She is comforted by her ever loving and devoted husband who pampers her and supports her unconditionally.
According to Underwood, Fisher understands her difficulties, and she confided in "Tonight Show" host Jimmy Fallon:
"He'll be really sweet and he'll like, talk to my belly and kiss my belly."
When she and Fisher asked Isaiah for a suggestion for the baby's name, he immediately replied: "Isaiah Michael Fisher."
Isaiah will soon be sharing Mom with a sibling and playing big brother, maybe even teaching the new baby how to play soccer.
Please fill in your e-mail so we can share with you our top stories!