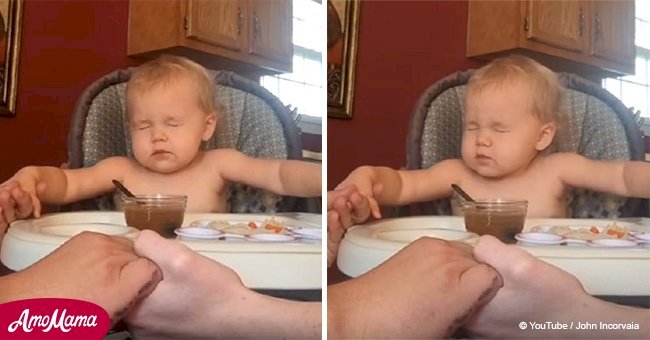 Toddler holds hands and prays with parents at the dinner table, but her serious face goes viral.

When parents Liz and John Incorvaia from Indianapolis, Indiana shared the video of their family before mealtime they did not expect the reaction they received.
The 16-second long video they shared on Facebook had received close to a million views, and it is not surprising. The family said they pray about four or five times before a meal every night, wanting to instill the value of prayer to their daughter from a young age.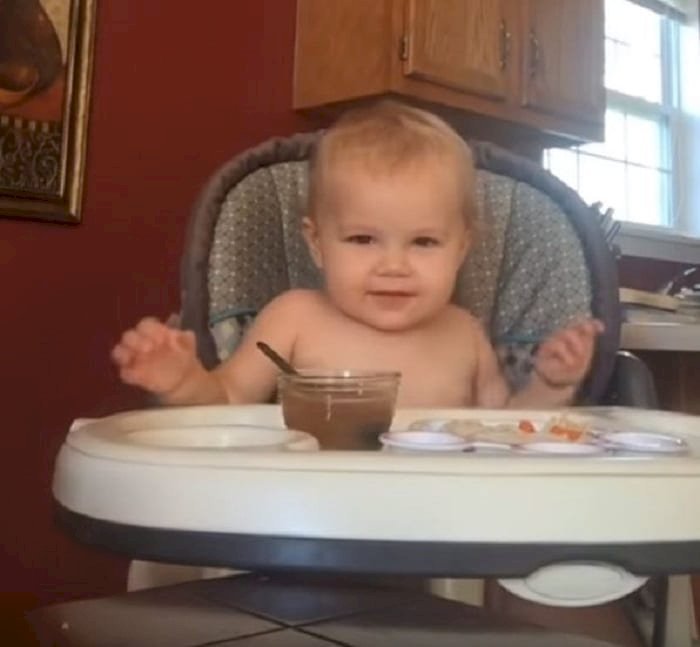 Source: YouTube/John Incorvaia
In the video, it can be seen how the twenty-month-old Penny gave dad and mom her hands in preparation of prayer prior to their meal. She closes her eyes automatically, sitting still as dad thanks God for their food and his 'beautiful girls.'
Little Penny keeps her eyes firmly shut throughout and when he finished she excitedly said 'Amen.' ready for the food her mom had prepared for them.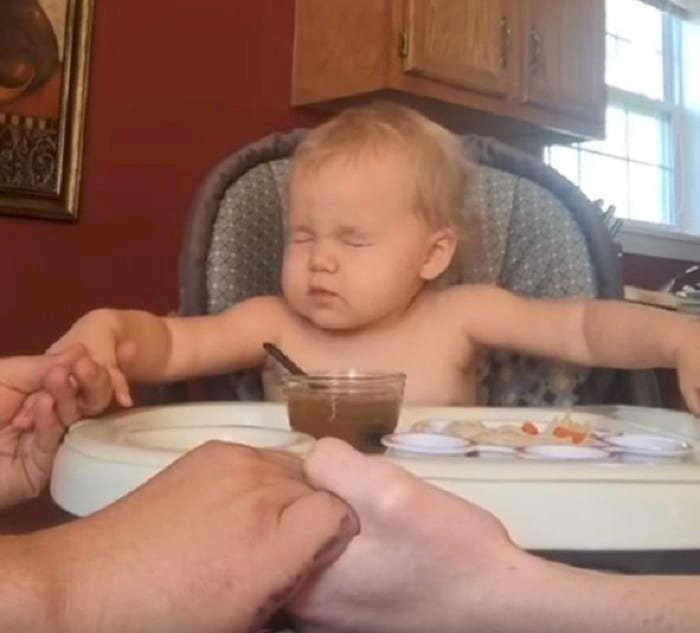 Source: YouTube/John Incorvaia
Read more on our Twitter account @amomama_usa.
The parents delighted with the insight their very young daughter seem to show as seen by the cute serious face and concentration she shows during prayer time.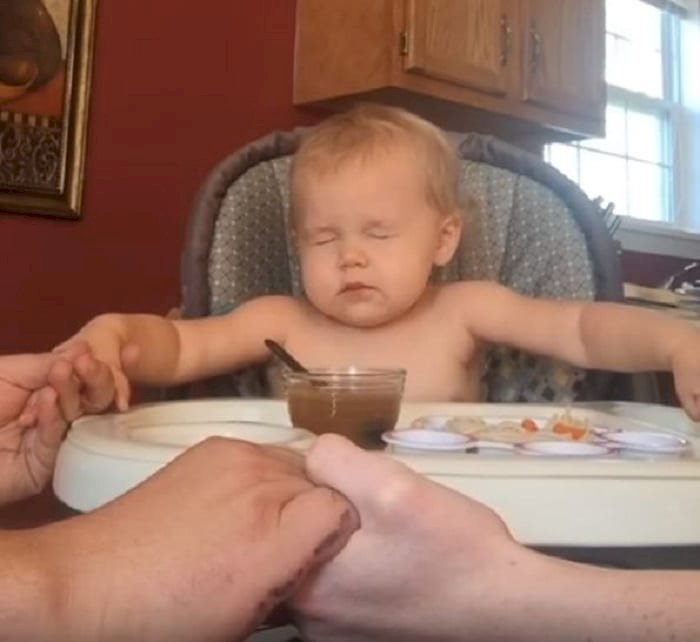 Source: YouTube/John Incorvaia
Another cute 2-year-old shared her understanding of the importance of prayer with baby Penny as she was captured on a baby monitor saying her bedtime prayers.
The South Carolina toddler warmed the hearts of parents when she decided to do her prayers by herself after they had put her to bed one Sunday night.
They did not join her in her bedtime prayers as usual as they didn't want to miss the Carolina Panthers NFC championship game against Arizona on Television.
After her parents left the room she decided to pray on her own, and can be heard praying for her parents, grandparents and even Santa Claus! The little girl cutely ends the prayer with a resounding 'Amen.'
A mother recently shared an incident that occurred at an eatery when her 6-year-old son asked if he could say a prayer before they ate. Everyone at the table bowed their heads and the little boy went on to pray and said:
"God is good. God is great. Thank you for the food, and I would even thank you more if Mom gets us ice cream for dessert. And Liberty and justice for all! Amen!"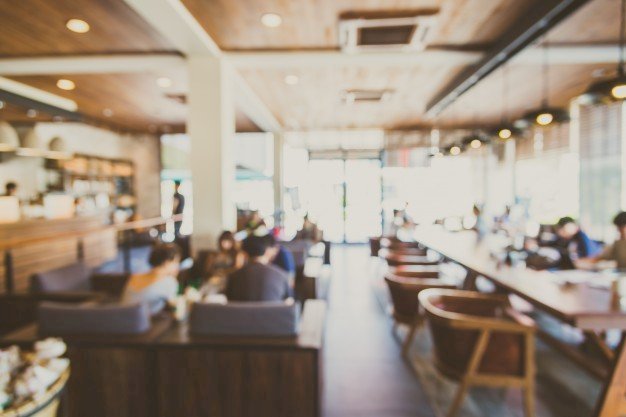 Source: Freepik
Nearby customers chuckled in amusement at this boy's adorable prayer, however, one woman did not share the sentiment as she remarked:
"That's what's wrong with this country. Kids today don't even know how to pray. Asking God for ice-cream! Why I never!"
Her son heard the woman's comment and burst into tears asking his mum if he prayed wrong and if God is mad at him. She assured him that his God was not mad at him and that he had done a great job, with this an elderly gentleman came over to their table and winked at her son and said:
"I happen to know that God thought that was a great prayer."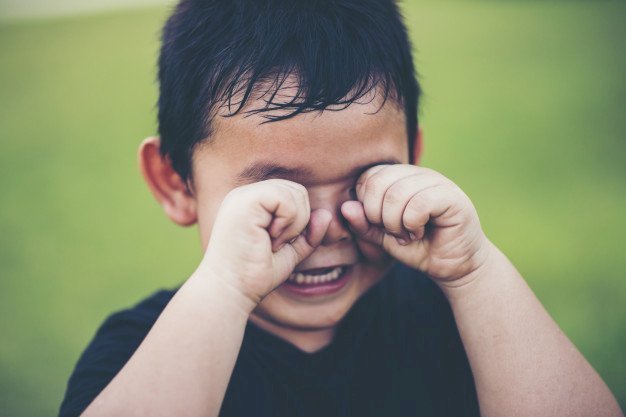 Source: Freepik
The little boy asked whether he really thought it to be the case upon which he gave assurance by saying:
"Cross my heart. Too bad she never asks God for ice cream. A little ice cream is good for the soul sometimes."
Mum bought the kids ice cream after the meal, but her son just stared at it for a moment before doing something she said she will remember for the rest of her life.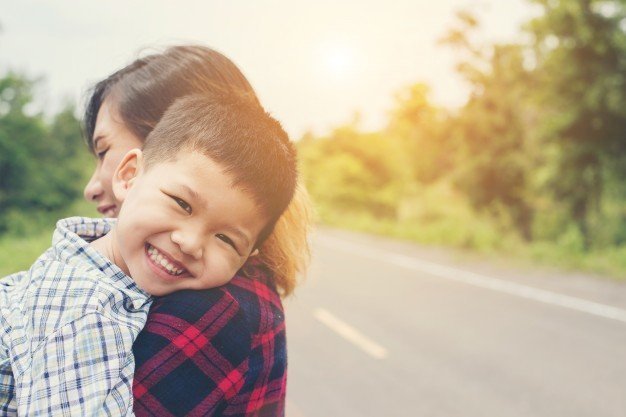 Source: Freepik
He got up and took his sundae without saying a word, walked over to the lady that made the remark, and placed it in front of her, with a big smile he told her:
"Here, this is for you. Ice cream is good for the soul sometimes, and my soul is good already."
The state of the three youngster's souls definitely speaks for themselves.
Please fill in your e-mail so we can share with you our top stories!