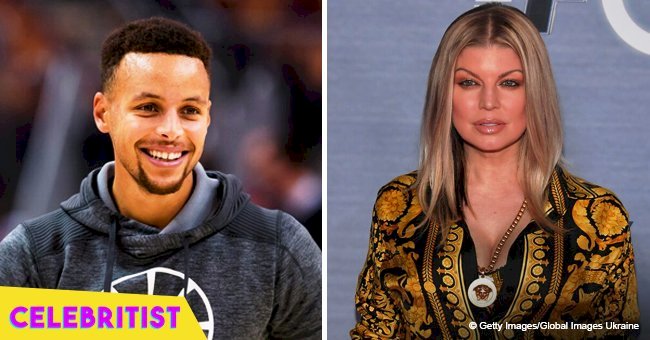 Steph Curry & the Golden State Warriors dance to a remix of Fergie's epic national anthem fail

Stephen Curry gave fans a glimpse into the Golden State Warriors team locker room on Instagram this weekend. The team chose to dance to a fresh remix of Fergie's version of the national anthem before their game, as shown in the video below.
The remix was based on Fergie's infamous rendition of the national anthem for the NBA national anthem performance earlier this year. The remix poked fun at the original version and managed to get a few giggles from anyone watching the video.
Fergie had opted to sing a slow jazz-inspired version of the Star Spangled Banner. However, many people found this version disrespectful.
Her version became iconic for all the wrong reasons. The memorable performance had garnered an enormous backlash.
Fans had dubbed it the "worst ever" performance of the national anthem. Many took to social media to express their concerns.
Eventually, Fergie was forced to release a public apology. She explained she was merely trying something new and did not mean to be disrespectful.
Did #Fergie just try to Marilyn Monroe the Star Spangled Banner? ~ @sacrificepage
Social media users also used the rendition as a chance to make memes and remixes to poke fun at the star. One of the remixed versions was played during the warm-ups before the Lakers and Spurs game.
And another hilarious version caught the attention of none other than Steph Curry and his teammates. The remix rook the painful original rendition and creates a catchy pop inspired beat.
In the video, Stephen Curry and his team dance through their dressing room with the song blaring. It's not the first time Curry showed off his dance moves, but this time he got all his teammates involved too.
They took turns to show off their moves as they got ready for their game. Curry then posted the hilarious video to his Instagram. He tagged it #fergieremixchallenge which sparked his followers to create and publish their versions of the remix.
The video garnered over one million likes and over twenty-four thousand comments. Most of the comments were from fans expressing how hilarious they found the video. One fan even said:
"This is better than any apology @fergie" ~palm_oil_kisses_
The video caught the attention of Fergie herself who tweeted, "I knew I wanted it to be special." She also used the same hashtags as Stephen Curry making the challenge official.
Whether or not, Stephen Currie intended for the video to go viral, it certainly has.
Please fill in your e-mail so we can share with you our top stories!