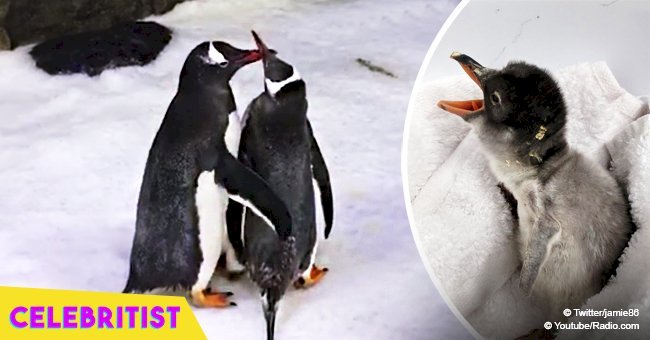 Remember the gay penguin couple that went viral? They just successfully hatched their foster egg

Sydney's gay penguin couple have successfully hatched the foster egg they were taking care of. The aquarium has released a series of images, included below, of the cute chick.
Sphen and Magic, the penguins who went viral about two weeks ago. The two Gentoo male penguins fell in love at the Sea Life Sydney Aquarium.
Taking turns, the couple worked hard to nurture the egg. They traded duties throughout the mating season and even built a nest of stones to keep their egg warm.
At first, they were given a dummy egg by Aquarium officials. However, when the officials noticed how well the pair took to nurturing the egg, they gave them a real egg from a couple who had two.
The aquarium believes Sphen and Magic make great partners. They took great care to nurture their egg and their nest.
Their efforts paid off when they welcomed their chick into the world on October 19, 2018. The chick weighed 91 grams and had not been named.
"Baby Sphengic has already stolen our hearts! We love watching the proud parents doting and taking turns caring for their baby chick," says Tish Hannan, Penguin Department Supervisor
The chick will be reliant on his dads for the next five to six weeks. The first twenty days is crucial for the young chick, and his dads will need to keep him well fed, warm and happy.
While this story captured headlines, it is not a unique case. There are some studies discussing homosexual tendencies in the animal kingdom.
One study showed that while penguins homosexual tendencies the male penguins are probably lonely and opt to pair up with other males instead of remaining alone. The study credits the homosexual tendencies to the small number of females per colony.
Penguins are natural nurturers. They are known to give in to the urge to nurture the young and often same-sex penguin couples will usually start looking after the eggs of other penguin couples who abandon their eggs.
In a Denmark zoo, the urge proved to nest and start a family proved too strong for their homosexual penguin couple. They attempted to kidnap a hatchling that was left alone. Zookeepers returned the chick to its parents and gave the same-sex pair an egg of their own.
Sexuality across the animal kingdom is proving to be much more fluid than scientists once thought. Animals, like humans, seem to gain pleasure and feelings of companionship from sexual acts and do not simply rely on it for reproduction only.
But while the Penguins may be pairing up out of loneliness and taking in foster kids to satisfy their need for a family, no one can deny these same-sex parents are doing a brilliant job.
Please fill in your e-mail so we can share with you our top stories!