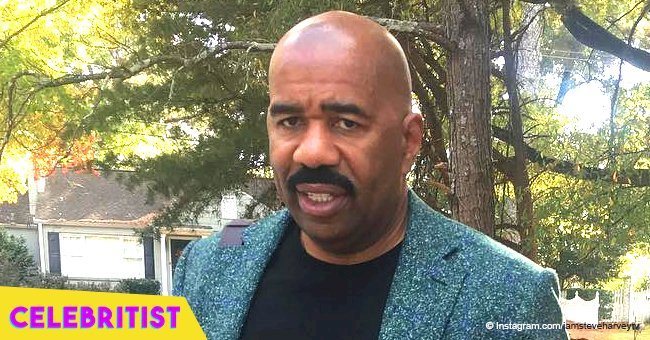 Steve Harvey sparks worry for looking 'sickly' in photo with Magic Johnson

A recent photo of Steve Harvey is making fans wonder if all is well with the popular talk show host.
Steve and his wife Marjorie attended the World Series in Los Angeles, California over the weekend to watch a game between the Boston Red Sox and L.A. Dodgers. While at the stadium, Steve ran into legendary NBA star, Magic Johnson, who purchased the L.A. baseball team in 2012.
The two friends posed for a quick photo which Steve posted on Instagram. Magic towered over the "Think Like A Man" author in a blue polo and black pants while Steve wore an open-button shirt over a blue t-shirt and black pants. He also held a white snapback hat in one hand.
The 61-year-old wrote:
"Thank you @marjorie_harvey for tonight. @magicjohnson, we are rooting for the #dodgers!"
Most fans in Steve's comments section were however concerned with how sickly he looked, and some even suggested shaving his gray beard off. There were also one or two remarks that were downright mean.
"Hey steve I love you but why your look like so sick god bless you"- @alzahraa.mo
"His age starting to kick in plus he works a lot as we all know. Not to long ago before he was convienced that the beard was a good idea. He looked really nice and fresh all the time, and still does but now looks older. Im sure he's fine with it or he would probably shave it off and color the facial."- @medina.pauline
"Magic has slimmed down a lot. Being working out agrees with him. Steve looking old and tired."- @pamjohnson_
"@iamsteveharveytv looking like grandpa next to magic Johnson lol hahaha"- @spuddet
ORIGIN OF THE GRAY BEARD
Steve decided to let his gray beard grow out this past summer, according to AJC. The famous comedian said he got tired of dying his mustache.
"What happened every year was I was getting a little grayer there. Last year, I thought about it but I wasn't quite there. I had only 10 gray strands. It just looked like threads hanging off my mustache."
Steve also said his wife liked the new grays and is contemplating switching it up every ten years.
ALL ABOUT FITNESS
Folks might be worried about Steve's health because he's usually a fitness enthusiast. When he was 51, Steve launched a "50 and Fly" campaign in collaboration with a fitness trainer to encourage "men ages 40 and older to tone up, lose weight, eat the right diet plan, and, most importantly, stop using age as an excuse to skip doing any fitness exercise program."
Most recently, last year, Steve trended the hashtag #60isthenew40 and shared a couple of videos of himself working out. At the time, the "Miss Universe" host admitted:
"Nobody said getting what you want is going to be easy. It's far from it. If you can get through the tough spots, the victory is yours."
IS STEVE LEAVING HIS WIFE?
Meanwhile, Steve is no stranger to being the subject of rumors and speculations. Not too long ago, he was alleged to be divorcing his wife of 11 years for Kris Jenner and paying a settlement of $400million.
After saying "I'm sick of it," Steve made a joke of the situation.
"My wife came to me and said, 'Do we have $400 million?'" he said, to which he replied, "'Nah. Not yet."
Please fill in your e-mail so we can share with you our top stories!