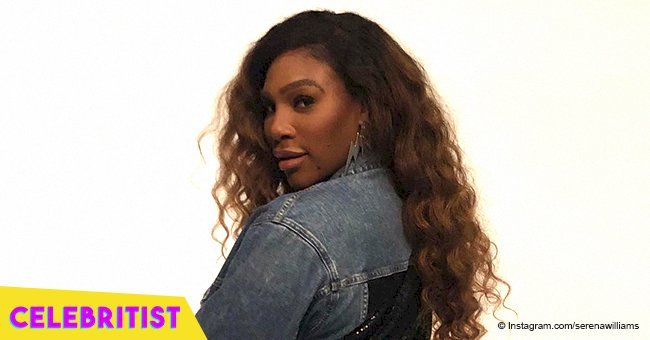 Serena Williams sparks debate after sharing photo with pouting daughter Olympia looking 'sad'

Serena Williams took to Instagram recently to share an adorable mommy-and-me picture with her daughter Olympia Ohanian, but the tennis champion couldn't have expected the reactions that followed.
Williams looked sporty in a pink Nike tank top and wore her hair pulled back. The mom-of-one balanced Olympia on her hip and looked down at her adoringly. Olympia, on the other hand, rocked a plaid outfit and stared into the distance with a pensive look.
In no time, the tot's look became a debate, with some fans saying she looks sad and moody while others insisted her expression is a sign of intelligence. Take a look at some of the comments from both sides.
SHE "NEVER SMILES"
"She is the most unhappiest baby I have ever seen...does she know how to smile????"- @cmoore113
"She looks sad"- @jasmine._.style
"This child never smiles."- @ssweetp32
SHE'S A "THINKER"
"So serious like her mom #futurechamp"- @johanebelamy
"Now that's a face to reckon with. She's such an interesting child. Lucky u & her Papa & all of us with whom u share ur love & genius"- @rocketblu1
"That baby always serious. A little thinker"- @divaganny
MOTHERHOOD STRUGGLES
The photo comes after Williams opened up about her motherhood insecurities and encouraged more women to do the same. While speaking at a Pennsylvania Conference for Women on Friday, the tennis star, who is married to tech mogul, Alexis Ohanian, said:
"I always have these insecurities that I'm not good enough as a mom. We all go through these different emotions that we all don't feel comfortable talking about. But I think we should."
A CALL FOR BETTER HEALTH CARE
Williams also recalled her difficult delivery, admitting that she had an attentive female doctor who listened to her during her pregnancy. She, however, lamented the fact that not all women have access to that kind of treatment.
"In this country that's supposed to be so technology-advanced, why are we treating our mothers like this?" Williams asked, adding:
"I was really fortunate because I had an opportunity for my voice to be heard. I had a wonderful female doctor who listened to me. There are so many women who were not being listened to. It's really unacceptable."
MOMS ARE HEROES
Despite the struggles that come with being a first-time mother, however, Williams is taking it in her stride and having fun while taking care of Olympia.
The 37-year-old spoke to People last month and agreed that it's not easy being a mom, athlete, and businesswoman all at once, but then she said: "It is the challenge that makes it fun!"
Olympia turned one on September 1, but there was no celebration of the milestone because Williams identifies as a Jehovah's Witness.
She told reporters at a U.S Open interview in August:
"Olympia doesn't celebrate birthdays. We're Jehovah's Witnesses, so we don't do that."
Please fill in your e-mail so we can share with you our top stories!