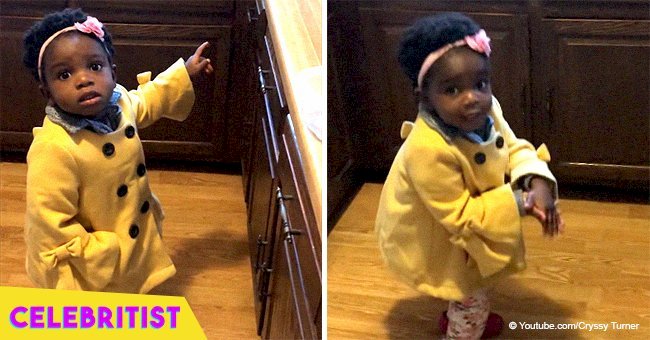 Little girl begs Alexa to play 'Baby Shark' & wows with dance when the music finally comes on
One adorable toddler is melting hearts across the internet with her persistence, and she's got incredible dance moves too.
Two-year-old Zoé was filmed by her mother, Cryssy Turner, as she repeatedly pleaded with Alexa to play her favorite song. Unfortunately, the Amazon device does not pick the correct command from Zoé and retrieves other songs instead of playing the viral kids' tune, "Baby Shark."
Standing in the kitchen at their Wisconsin home, a displeased Zoé looks to her mother for help. Thankfully, mommy comes in with a clearer voice, and Alexa gets the message.
Immediately Zoé hears the opening tunes of her song, she starts to dance. And dance she did! Dressed in a yellow coat, floral leggings, pink shoes, and a matching pink headband, Zoé begins to clap her hands the same way it's done in the popular music video.
Cryssy posted the video last week on YouTube and wrote:
"She tries so hard to get Alexa to play her jam. She struggled for at least 5 mins before I even started recording."
The video went viral in no time, and Zoé's story has been featured across various media platforms.
WHAT IS BABY SHARK?
According to Independent, the "Baby Shark" song is "a catchy educational jingle created for children." The song was created by Pinkfong, a Korean-based YouTube channel for kids. The account creates videos of sing-along songs and dances that feature catchy tunes likely to get stuck in anyone's head.
"Baby Shark" first went viral across south-east Asia after it was released in November 2015, but more recently, has become a global hit with almost two billion views on YouTube. It is now reportedly listed as one of the Top 40 most-viewed videos ever on YouTube.
The addictive song even birthed a dance challenge, and parents are getting in on the fun too. The challenge involves people filming themselves as they recreate the dance moves shown in the video.
At some point, social media users decided to merge it with Drake's "In My Feelings" challenge. Now, instead of replicating the singer's dance routine by a moving car, folks are doing the shark dance.
Jordan Foster, a cyber safety expert and child psychologist, however, warned against the dangers of such dance challenges:
"It's simply dangerous to be jumping out of your moving car to perform this dance."
PRAYING TODDLER
In another case of a toddler winning the internet with their cuteness, one young boy suddenly developed the habit of praying on a mat, and it wasn't until his family saw his daycare teacher that they understood.
His sister shared the hilarious video on Twitter and wrote:
"A few of his teachers at daycare are Muslim and we realized he's seen them pray and now he does it too so precious."
You can read the rest of that adorable story here.
Please fill in your e-mail so we can share with you our top stories!