Little baby baboon falls into lioness' lap, but her reaction stuns the world
A series of pictures shows the staggering encounter between a baby baboon and a lioness in a game park.
While on a safari trip in Botswana in November 2012, photographer Evan Schiller and Lisa Holzwarth spent four days in Selinda Camp with their guide, Isaac Seredile.
The trio suddenly heard a commotion while out on safari. They then witnessed a genuinely baffling sight. Fortunately, Schiller managed to photograph the events that unfolded.
Follow us on our Twitter account, @amomama_usa, to learn more and scroll down to take a look at the incredible photos below.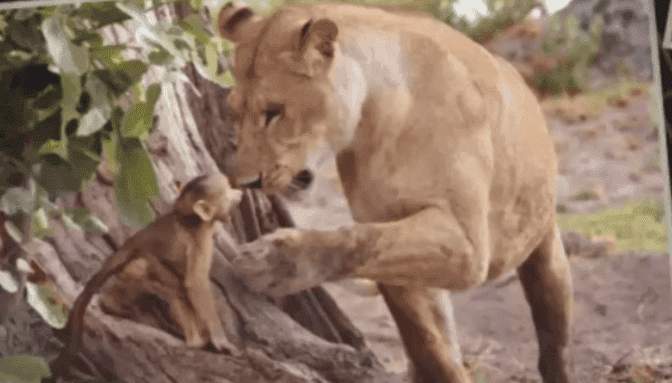 The series of events caught by Schiller are detailed in his wife Holzwarth's blog.
Holzwarth explained how they saw a troop of 30-40 baboons before they were immediately set upon by four lionesses.
Many of the baboons were able to climb into the safety of the trees. Sadly, three of them decided to make a run for it, and one did not survive.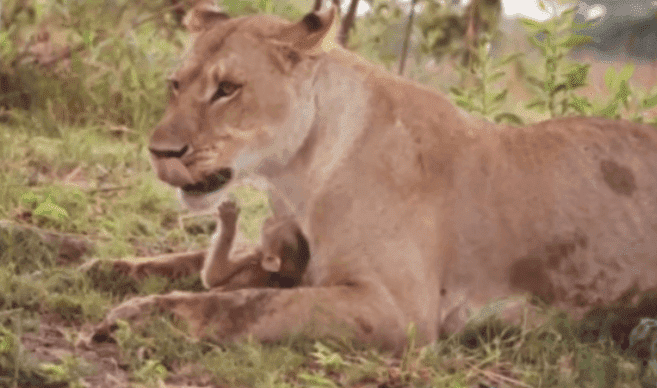 "As the third baboon lay dying on the ground, we noticed a little baby (less than a month old) slowly disengaging from its mother's dying body," Holzwarth wrote.
"Despite its young age, I was amazed to see how instinct so quickly kicked in that it immediately tried to find safety in a tree."
That is when something unusual occurred. Rather than going in for the murder the lioness started playing with the child monkey.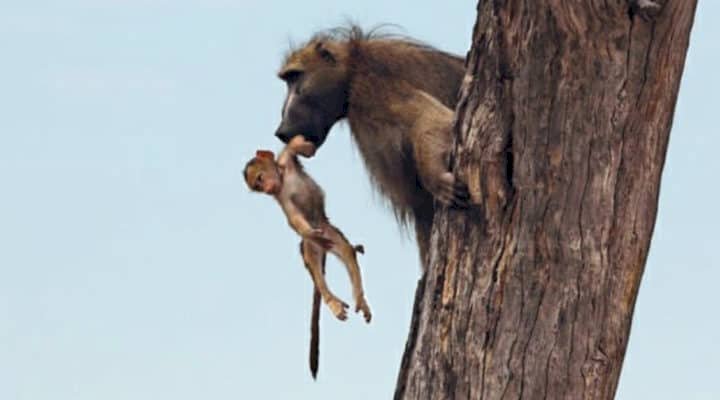 "The baby was jumping up and down screaming and hitting the lioness on her nose," she recalled on her blog.
"Meanwhile, the lioness was gently knocking the baby off the trunk of the tree every time it seemed to make a little bit of progress in its vertical attempt of escape."
Holzwarth added, "What happened next blew our minds. The baby, in another instinctual moment, held onto the lioness' chest and tries to suckle... Evan's pictures say it all."
In a twist of events, the infant's dad showed up. He had been plotting on attempting to spare his child the whole time and finally had his shot now that the lioness was distracted. He snatched his baby and ran up a tree with him to safety.
"After watching these human-like emotions and actions, it's pretty hard to doubt Mr. Darwin and his theories," Holzwarth wrote.
The child survived the ordeal and left Holzwarth with a philosophical lesson.
"No matter what, he remains an inspiration to me – and a reminder, that life is fragile and no matter how much I fight to control its outcome, I am at the mercy of the universe," she wrote. "All we can do is live in the moment."