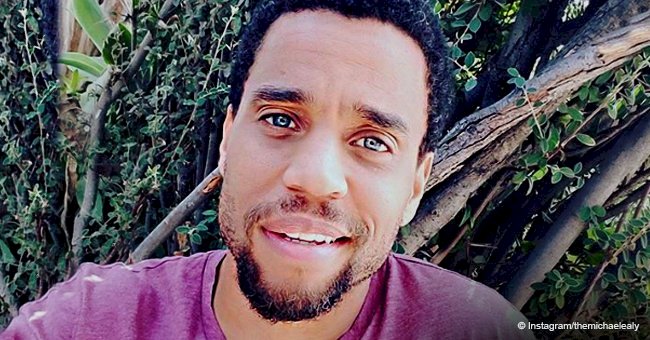 Michael Ealy shares rare photo with Afghan-American wife of 6 years and their 2 young children

Michael Ealy shared the photo included below of his family of four to convey a powerful message about voting.
Michael Ealy is no stranger to making political statements or voicing his opinions. While he does not share much of his family life, when he does it is usually for an excellent reason.
He is well known as an extremely private person. His family rarely feature on his Instagram or in public campaigns.
It is not the first time Ealy has used his Instagram as a platform to convey an important message. His recent campaign centers around his small family.
HIS FAMILY:
Ealy is married to the gorgeous, Afghan-American, Khatira Rafiqzada. She makes a rare appearance on Ealy's Instagram usually with a striking and telling caption attached to the image.
One of these images is a photo of the two of them captioned simply with "#NoMuslimBan." The rare post from Ealy was aimed to protest President Trump's seven-country travel ban into the United States and garnered massive support.
While he does make political statements, sometimes the rare posts are for much lighter reasons. On an image with his son for the tots birthday, he wrote, to his son that it is his job to raise him up to be a man in this world that gives back and respects others, use good judgment and help him to find his own way. He went on to wish him Happy Birthday.
He also posted a stunning image of his wife carrying their son on Mother's day. He went on to thank her for her hard work keeping the family together in the caption.
He called her the "core and rock" of the family. Then he went on to tell her how good she looked.
But, if there's one member of the family who simply steals Ealy's heart, it's his daughter. The proud father has gushed about his love for his daughter both on his Instagram and even in interviews.
When she turned five months old, he posted an image of her in an adorable white dress. The image left fans hoping for more glimpses of the adorable little girl on his Instagram.
In an interview with Steve Harvey, Ealy said that at the birth of his daughter he " discovered a whole new love."
CURRENT POST AND IT'S MESSAGE:
His deep love for his family appears to be the motivation behind the heavily loaded post he recently made to his Instagram. In the post, he encourages his one million followers to vote because of their voice matters.
He says, regarding the image which is a remake of a Norman Rockwell picture, "At its "core the original image by #NormanRockwell represents parents wanting to protect their children and their innocence from the horrors of the real world. What's provocative about this version is the relationship to said horrors."
The campaign aims to draw awareness to how the media's portrayal of certain groups of people can affect their children. It also aims to encourage people to change the narrative so that the same children can be given the chance to grow up without having to fight the same societal stigmas.
Ealy summarises the idea behind the campaign in the simplest terms at the end of the caption.
"We want to protect their innocence like everyone else and instill in our kids that they can and will make the neccessary contributions to a greater America that represents all the good and diversity it claims to represent. That's patriotism."
Please fill in your e-mail so we can share with you our top stories!